Holly Willoughby cringes after making embarrassing 'porn' blunder on live TV
Holly ended up red-faced while chatting to Sarah-Louise Pritchard and Jane Chelliah from Channel 4's Mums Make Porn on the This Morning sofa.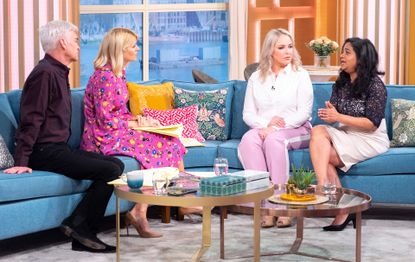 (Image credit: Ken McKay/ITV/REX/Shutterstock)
Holly Willoughby ended up red-faced while chatting to Sarah-Louise Pritchard and Jane Chelliah from Channel 4's Mums Make Porn on the This Morning sofa.
Talking about how easy it is for teenagers to access porn from smartphones and tablets these days, Holly commented, 'Because it's so accessible on any of these devices, you click on one thing and before you know it 10 other things have popped up.'
Suddenly realising she'd accidentally made a suggestive pun, Holly quickly added, 'Hm, bad choice of word.'
Twitter soon lit up with reactions from amused viewers.
'"10 other things have popped up" DEAD,' one user commented.
Jane and Sarah-Louise are two of the five mums taking part in the Channel 4 documentary Mums Make Porn, which sees them write, cast and direct their own porn film.
Shocked by the violent and disturbing content of hardcore porn freely available on the internet, the mums aimed to create a porn film they would be happy for their own children to watch.
Sarah-Louise, who took charge of hair, make-up and costumes, was physically sick when the mums visited a typical porn set as part of their research.
'I think it might be the bodily fluids bit that's knocked me,' she said. Jane, who is a political blogger, added, 'I feel absolutely ghastly. What I was hoping for was something a lot more real and intimate.'
The mums, who have 15 children ranging in age from eight to early 20s between them, wanted to create a film that would promote healthier attitudes towards sex and relationships amongst teenagers. They were helped in their mission by industry experts.
Viewers flocked to Twitter in their droves to express their feelings about the show's unusual concept, with one writing, 'This programme is shocking me more than actual porn.'
'Strong language from the start and strong adult material that some viewers might find hilarious,' another quipped.
But others were impressed by the mums' attitudes.
'I think people are missing the point about #mumsmakeporn,' said one Twitter user.
'It's about encouraging parents to talk about the realities of porn and what happens in real life to their teenage kids. Teaching young people about consent. Respect. Reality vs fantasy.'
'I stand with #MumsMakePorn,' another agreed. 'You can't change a toxic and destructive industry by commenting (or watching) from the sidelines! #GetInvolved'.
Samantha is a freelance writer at Goodto who has been with team since 2019. Initially trained in psychology, she specialises in health and wellbeing and has additionally written for magazines such as Women's Health, Health & Wellbeing, Top Santé, Healthy, Refinery29, Cosmopolitan, Yahoo, CelebsNow, Good Housekeeping and Woman&Home.