Jamie Dornan and Amelia Warner confirm they've welcomed third child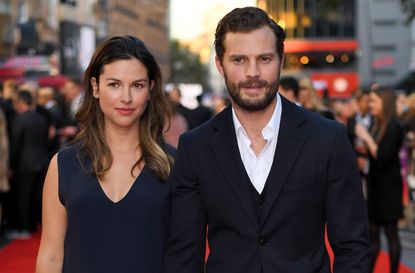 Jamie Dornan and wife Amelia Warner have revealed they welcomed their third child, in a sweet Mother's Day post.
The news that the Fifty Shades of Grey star was going to add a third child to his brood was reported by E! News back in October, but just a few weeks Amelia made a red carpet appearance with her blossoming baby bump.
The pair are notoriously private about their personal lives, but the mum-of-three confirmed she has given birth to another little girl in a sweet Mother's Day post.
Alongside a picture of three pair of shoes (opens in new tab), the actress and musician wrote: 'So proud of these three glorious girls, it's an honour being their mummy..feeling incredibly lucky today #happymothersday.'
Fans of the couple were quick to send congratulatory messages, with many pointing out that Jamie is now outnumbered by four females in the household.
One wrote: 'Awww so cute. Another girl. So sweet. But poor Jamie, being out numbered!🤣🤣🤣 happy Mother's Day Millie.'
Another said: 'Millie that is so adorable 3 girls. Thank you for telling us Millie. But poor Jamie is so outnumbered now but he does have Leonard as backup lol'.
When asked if he'd prefer a boy or a girl (opens in new tab), Jamie had previously admitted he would a like a boy.
While on American TV show Live! With Kelly, he said: 'I mean, I always thought I'd want a boy because, I dunno, I just think as a guy, you just think, "Oh, I'll have a little like mini-version of myself," or something, in a sort of narcissistic way.'
The actor has also spoken about whether he and Amelia will be having more children, and said
He said on Jimmy Kimmel Live!: 'Part of me feels like [I need] to put a cork in it after this. But then alternatively, I feel like we make really great kids. I may just—if my wife's willing—do it until we can't do it anymore.
'It's all up to her. I just do the fun bit.'