'That won't go down well' Joe Swash slammed for boasting about 'best night's sleep in ages' as he jets off on work trip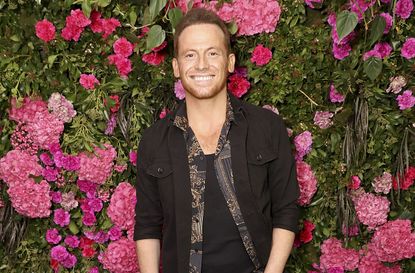 (Image credit: Getty)
Joe Swash has been slammed by fans for boasting about getting a good night's sleep.
The TV presenter, who recently welcomed son Rex with girlfriend Stacey Solomon (opens in new tab), was pulled up by fans for showing off that he was getting a good night's sleep without his other half.
The I'm A Celebrity…Get Me Out Of Here Now host took to Instagram to share an image of himself jetting off on a work trip and enjoying a deep sleep while cosied up in his seat under an aeroplane blanket on a British Airways flight.
Despite being upright in a seat, Joe captioned his snap: 'Best sleep I've had in ages thanks @british_airways,' joking that he has been sleep-deprived ever since his youngest son arrived (opens in new tab).
However, followers went on to point out that it was unfair on mum-of-three Stacey Solomon, who was left at home with seven-week-old Rex and her older sons 11-year-old Zachary and seven-year-old Leighton, who she has from a previous relationship.
'I'm sure @staceysolomon will be thrilled when she sees this 🤣🤣,' wrote one follower, 'nothing worse than sleep deprivation and seeing your other half snoozing!!!!🤣'
'@realjoeswashy I think @staceysolomon would like a decent nights sleep too,' added another, 'but please treat her to a fabulous hotel.....with maybe a spa 😉'.
'That wont go down well with the wife still doing the night shifts 🙄,' commented another.
Others agreed, writing: 'I'm sure @staceysolomon is very jealous', 'You're getting sleep but your Mrs isn't' and 'I bet @staceysolomon wants to beat you like a drum when she sees this 😉'.
However, there were some fans who supported Joe in what he was doing, saying that he should take every opportunity for rest.
'Fab dad,' commented one, 'sleep whilst you can @realjoeswashy xx your the real deal! Wishing I was Stacey Solomon 😍😍'.
'Fair Play Joe,' added another, 'you're out earning for your family 👍🏼👍🏼' and another wrote 'Aww he knackered bless'.
Let's hope Stacey manages to get some rest while she's at home!
Aleesha Badkar is a lifestyle writer who specialises in health, beauty - and the royals. After completing her MA in Magazine Journalism at the City, the University of London in 2017, she interned at Women's Health, Stylist, and Harper's Bazaar, creating features and news pieces on health, beauty, and fitness, wellbeing, and food. She loves to practice what she preaches in her everyday life with copious amounts of herbal tea, Pilates, and hyaluronic acid.