Fans are loving this video of Kate Middleton and Prince William's very rare sweet moment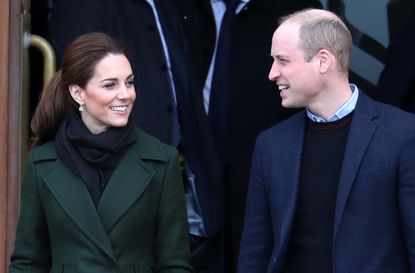 Kate Middleton and Prince William shared a sweet moment together in public, and fans are loving it…
The Duke and Duchess of Cambridge have been married for almost eight years now – their anniversary is next month – but it's not often we see them being publicly affectionate with each other.
So when we do get a glimpse of PDA, it's natural royal fans swoon over the couple.
One of those moments was captured on camera, as the pair were preparing to travel to Blackpool from their home in London's Kensington Palace for a royal engagement.
As they walked to the helicopter, the pair were filmed holding hands – which doesn't happen in public very often.
READ MORE: Why Kate Middleton and Prince William will never be seen looking into the camera in public (opens in new tab)
Fans loved the sweet clip of the couple, and started gushing over the moments in the comments section.
One said: 'My heart hahaha why this little gesture is just heartwarming ❤️❤️ it is love 💗'.
A second wrote: 'They are literally my favourite couple in all the world. A match made in heaven ♥️'.
A third even went as far as saying they should give George, Charlotte and Louis another baby, commenting: 'Absolutely love this...c'mon you two..make another baby please! 😁'.
The couple, who have been married since 2011, also shared another sweet moment back in October, at Princess Eugenie's wedding.
While waiting for the ceremony to start inside St George's Chapel, Kate and Wills were spotted holding hands in the live broadcast of the ceremony.
During their visit to Blackpool, William also revealed he's had some unexpected help in doing Charlotte's hair – YouTube tutorials.
According to People, he told a fellow dad: 'Never try to do a ponytail. Nightmare.'
His wife then asked him: 'Have you tried to do a plait [braid]? It's the weaving…really hard.'
To which William jokingly replied: 'I can do [Charlotte's] ponytail, but that's about it as I don't have enough hair to practice on!'