Lydia Bright opens up on being a single mum, saying there's 'no point stressing' over it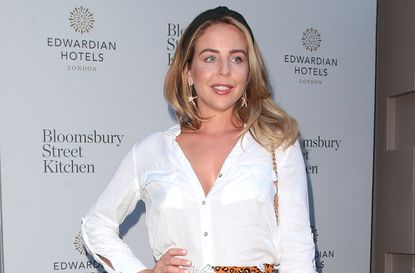 (Image credit: GC Images)
Lydia Bright has opened up on being a single mum.
The former The Only Way Is Essex star, who is expecting her first child (opens in new tab) has talked about her feelings on becoming a single mum.
Posting a sweet picture on her Instagram page of her sunbathing in Ibiza reading parenting book The Mindful Mother, the mum-to-be wrote: 'Our first holiday together Dinky 🎀
'Ps. Thanks for the new boobs 🍉 🍉 #18weekspregnant #Nearlyhalfway 👏🏼'.
Fans flooded the post with supportive messages towards the 29-year-old, who revealed her pregnancy just last month, with one writing: 'Super happy for you. You have all the support you need with such a tight knit family that you can do this with or with out him. This baby is going be so loved. You will be a great mommy ❤️'.
Another added: 'You look stunning, beautiful and ready to take on a new and exciting adventure. Enjoy every moment and look after your lovely self as much as possible. You are a beautiful lady and deserve all the best of everything ❤️ x'.
However, one wrote a heartfelt comment that prompted Lydia to respond, opening up about her feelings on becoming a single mother.
After one fan commented: 'It's kinda sad really. Not you. Just the whole relationship thing. The picture is almost perfect. Great to just relax and enjoy a beautiful island. You look amazing,' the expectant mum replied: 'I believe there is no point stressing over something you can't change. I have so much to look forward to and so much to be positive about, what ever will be will be'.
The TV star is expecting her first child with ex-boyfriend Lee Cronin, who she split from earlier this year.
She wrote on Instagram earlier this year: 'Sometimes relationships don't work out but having time away to reflect on how lucky I am in my life, what I have achieved and who I have around me fills my heart with so much love.
'Sometimes the hardest thing and the right thing are the same'.
Aleesha Badkar is a lifestyle writer who specialises in health, beauty - and the royals. After completing her MA in Magazine Journalism at the City, the University of London in 2017, she interned at Women's Health, Stylist, and Harper's Bazaar, creating features and news pieces on health, beauty, and fitness, wellbeing, and food. She loves to practice what she preaches in her everyday life with copious amounts of herbal tea, Pilates, and hyaluronic acid.