Meghan Markle and Prince Harry told people about pregnancy at Princess Eugenie's wedding
Royal fans already had their suspicions...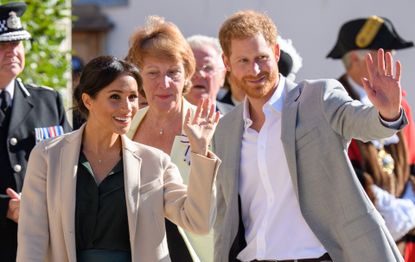 Prince Harry and Meghan Markle announced earlier today that they are expecting their first child together (opens in new tab).
But it seems that members of the royal family were already privy to the information that the Duchess of Sussex was pregnant a full three days earlier.
According to a Tweet by award-winning Royal Photographer Mark Stewart, the royal couple were already congratulated on their forthcoming bundle of joy on the day of Princess Eugenie's wedding to Jack Brooksbank last Friday.
It read: 'Kensington Palace has announced that the Duchess of Sussex is pregnant. They were congratulated in person by Prince Harry's family at Princess Eugenie's wedding.'
Meghan's outfit choice for the royal wedding had already set tongues wagging. The roomy navy coat appeared to reveal a hint of a bump and provide plenty of space to hide any potential first trimester weight gain.
But what may have thrown royal fans off the scent is the fact that Harry and Meghan have already touched down in Sydney Australia today as they embark on their 16-day official royal tour of Australia, Fiji, Tonga and New Zealand.
Pregnant women can continue to fly until they're 28 weeks pregnant without a midwife or GP letter confirming that they're in good health, but most airlines make this requirement after this date.
Meghan is thought to be 12 weeks pregnant - the date when many mothers share the news that they're pregnant with family and friends and the stage in which the foetus is fully formed.
This could mean that she could still be given the green light for further official royal visits overseas in the coming weeks and months.
But what is most telling about Harry and Meghan's current tour are reports that Meghan's best friend stylist Jessica Mulroney and her husband Ben Mulroney are said to be coming along for the ride in an unofficial capacity (meaning that they'll pay their own expenses).
Jessica and Ben are already parents to identical twins John and Brian 8, and Isabel, 5, so may be the ideal people to have on hand should Meghan and Harry have any burning pregnancy questions or just need some moral support.
Freelance Lifestyle Writer
Miriam Habtesellasie is a freelance lifestyle writer who has contributed content to GoodTo, Woman&Home, Women and Idealhome.co.uk. Miriam is based in London and is a fan of everything interiors, she admits to being spoilt for choice living in the capital. From stunning architecture right the way through to eye-catching department store window displays, she believes there's always an angle to be found that can translate to our abodes.