Meghan Markle's baby bump is sitting high but what does that mean?
All eyes have been on Meghan's bump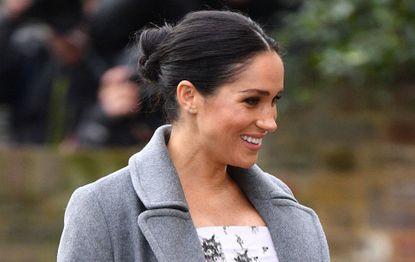 Meghan Markle is pregnant with her and Prince Harry's first child and the world's media have been closely watching her bump, so why is it sat so high?
Meghan Markle's due date is in spring 2019 so once all the excitement with Christmas is over, we won't have too long to wait till we get to see the newest royal baby.
The couple announced they were expecting their first child together three-months after they tied-the-knot in a magical ceremony at Windsor Castle. (opens in new tab)
Royal fans have been sharing their delight that they'll be a new baby in the Royal family soon but some people have noticed Meghan's bump is sitting very high.
Meghan Markle could be consciously cradling her bump for a very important reason
On Tuesday Meghan was at Brinsworth House, a nursing and care home for British entertainers run by the Royal Variety Charity, and her bump looked very prominent in her white Brock Collection dress.
A resident asked how Meghan was feeling and she candidly replied: 'Very pregnant!'
Although some people believe that how high a woman's baby bump sits is an indication of the baby's gender, this is just an old wives tale.
Going by the myth it would seem that Meghan is expecting a baby girl and using the Chinese brith predictor, (opens in new tab) it also suggests Meghan and Harry will welcome a daughter. (opens in new tab)
However, Professor Steve Robson, the Vice President of the Royal Australian and New Zealand College of Obstetricians and Gynaecologists, told the Huffington Post: 'It's clear to say that a child's genitals has nothing to do with how the woman's body looks when she is pregnant.'
He continued: 'The way a woman carries a baby has more to do with the size of the baby. If the baby is smaller, it is more likely to be lower in the pelvis. So a baby that is larger than average is more likely to be higher, a smaller baby will be lower.'
Do you believe in the old wives tale? Did it successfully predict the gender of your baby? Head over to our Facebook page to join the conversation and share any other tricks and tips you use for predicting a baby's gender…