Meghan Markle has confirmed she is six months pregnant and due in April
The baby is due in April...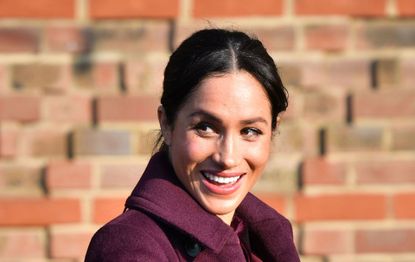 Meghan Markle has confirmed that her baby with Prince Harry will be born in April!
Meghan Markle has confirmed that her first child with Prince Harry will be born in April!
The couple were out on their first joint royal engagement of the year today (14 January) at Hamilton Square in Birkenhead when Meghan let slip the new detail about her pregnancy.
There has been lots of speculation as to when Meghan's due date will land. Thankfully, while speaking to the locals at Birkenhead Meghan revealed that she is six months pregnant and the baby is due to be born around the end of April.
Meghan's bump was very visible as she wore a bright red coat and figure hugging purple dress for her and Harry's first joint engagement of the year
This means that there is a very good chance Meghan and Harry's baby could share Prince William and Kate Middleton's youngest son's birthday, as Prince Louis was born on the 23rd April and will turn one this year.
The baby could also share their birthday with the Queen if they arrive a little earlier as her Majesty's birthday is on the 21 April.
Read more: Why Prince Harry and Meghan Markle's children won't have royal titles (opens in new tab)
The well-wishers of Birkenhead were keen to find out as much as possible about Harry and Meghan's baby but the couple can not reveal the gender because they don't know it!
Meghan explained that she and Harry have decided not to find out the gender of their baby as they want it to be a surprise. Royal correspondent Rebecca English tweeted: 'But Meghan said she didn't know whether they were having a boy or a girl. She said she wants it to be a surprise!'
Read more: Prince Harry and Meghan Markle won't have full custody of their children because of this royal rule
Despite this, several people are convinced Harry and Meghan will be welcoming a little girl in April and bookies have suspended bets on the baby's gender. (opens in new tab)
Later today Harry and Meghan will visit Tomorrow's Woman Wirral, a group that supports vulnerable women. They will speak to some of the women who have been helped by the group and visit the charity's onsite shop, cafe and Inspiration Hall.
They'll finish the day of duties with a visit to the Hive Wirral Youth Zone which has been created by the charity OnSide Youth Zones. The charity works to develop 21st century youth facilities across the UK.
Jessica currently works as a Senior Food Writer at Future. She writes food and drink-related news stories and features, curates product pages, tests, and reviews equipment, and also develops recipes that she styles on food shoots. An enthusiastic, self-taught cook Jess adores eating out and sharing great food and drink with friends and family. She has completed the Level 1 Associate course at the Academy of Cheese and is continually building on her knowledge of beers, wines, and spirits.