Why Prince Harry and Meghan Markle's children won't have royal titles
Prince Harry and Meghan Markle's kids won't have royal titles.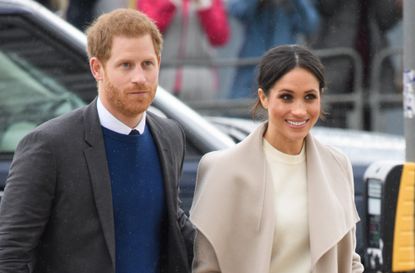 GoodTo newsletter
Sign up to the GoodTo Newsletter. You can unsubscribe at any time. For more information about how to do this, and how we hold your data, please see our privacy policy
Thank you for signing up to . You will receive a verification email shortly.
There was a problem. Please refresh the page and try again.
Prince Harry may be sixth in line to the throne, but that doesn't mean any children he has with Meghan Markle will be issued with royal titles too.
The Duke and Duchess of Sussex have finally decided to expand their family (opens in new tab) but their little one, and any future children of the couple's, will not be Princes and Princesses like Kate and Prince William's children.
The titles Prince and Princess and His/Her Royal Highness statuses are reserved for children or grandchildren of the monarch only.
With this in mind, it's more than likely that Prince Harry and Meghan's kids will instead receive Lord or Lady titles, if they are born before Prince Charles becomes king.
However, if they arrive once Prince Charles has ascended the throne, they could become a Prince or Princess because their grandfather is the king.
Prince George, the eldest child of the Duke and Duchess of Cambridge, was an exception to the royal title rule because Prince William is in line to be king.
Queen Elizabeth II issued a new letter patent when Prince George's sister, Princess Charlotte, was born in May 2015, which ensured she was given the same title as her big brother too.
If this hadn't been done, Princess Charlotte would have been referred to as Lady Charlotte Mountbatten-Windsor instead.
Thanks to the arrival of Prince Louis in April, Prince Harry has been pushed down to sixth in line to the throne and therefore it's highly unlikely that any of his children could ever be a monarch.
It was also recently revealed that Princess Charlotte's children won't be prince or princesses either (opens in new tab), but Prince George's and Prince Louis' will be.
According to Lucy Hume, associate director of Debrett's, who spoke to Town & Country, this is because the only way to become a Prince or Princess, is to be the child of a Prince - or to marry one.
Lucy said, 'Royal titles are inherited through sons, so if Princess Charlotte has children they would not automatically inherit the titles 'HRH,' 'Prince,' or 'Princess.''
With this logic, it means that Prince George and Prince Louis' children will automatically inherit prince or princess but another unprecedented move from the royal family would be needed to ensure Princess Charlotte's children receive the same treatment.
Words by Kirsty McCormack