Meghan Markle reveals pregnancy is like having 'jet lag'
We can't believe this!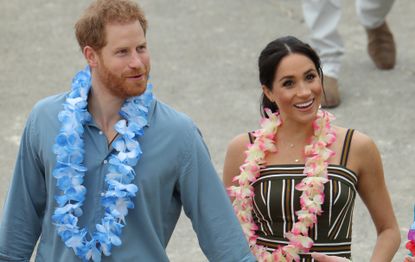 (Image credit: Matt Baron/REX/Shutterstock)
GoodTo newsletter
Sign up to the GoodTo Newsletter. You can unsubscribe at any time. For more information about how to do this, and how we hold your data, please see our privacy policy
Thank you for signing up to . You will receive a verification email shortly.
There was a problem. Please refresh the page and try again.
Pregnant Meghan Markle has stunned royal fans by revealing that she set her alarm for 4.30am to squeeze in some early morning yoga during the royal tour.
The Duchess of Sussex – who is currently visiting Australia, Fiji, the Kingdom of Tonga, and New Zealand alongside husband the Duke of Sussex – revealed all to a group of beachgoers at Sydney's Bondi Beach this morning.
The 37-year-old is expecting her first child (opens in new tab) and told the waiting public that waking up at the crack of dawn to carry out the ancient discipline was 'so good for healing your mind'.
Charlotte Waverley, 35, who is also expecting and had her two-year-old son, Finn, in tow spoke with the Duchess about her experience of pregnancy: 'Meghan told me that pregnancy was like having jet lag. She said she was up at 4.30am this morning doing yoga in her room as she couldn't sleep.'
'It's a bit of a double whammy for her, she said, as she has both the baby and jet lag to contend with.'
And it seems that Meghan got a chance to continue to explore the theme of wellness, as she and husband Prince Harry joined local surfing community group known as OneWave for an 'anti bad vibes' circle where members can share their experiences.
OneWave describes itself as 'non-profit surf community tackling mental health issues with a simple recipe...saltwater therapy, surfing and fluro [where people wear bright, flourescant clothing]'.
Has the gender of the new royal baby been revealed? (opens in new tab)
Posting a striking image of the royals' visit on their Instagram account, One Wave wrote: 'What a morning!!! It was such an honour to welcome The Duke and Duchess of Sussex to our OneWave community. For five years, we have used bright colours at Fluro Friday to raise awareness for mental health. By joining our Anti-Bad Vibes Circle this morning, Their Royal Highnesses are helping to make mental health more visible around the world! Thank you so much for joining our community. This is a day we'll never forget!'
Prince Harry's support of mental health initiatives is well known and alongside his brother the Duke of Cambridge and sister-in-law the Duchess of Cambrige, he has spearheaded mental health initiative Heads Together.
Last month the Duke and Duchess of Sussex also attended gala concert in aid of Help for Heroes, which aimed to raise £100,000 to help troops with Post-Traumatic Stress Disorder.
Freelance Lifestyle Writer
Miriam Habtesellasie is a freelance lifestyle writer who has contributed content to GoodTo, Woman&Home, Women and Idealhome.co.uk. Miriam is based in London and is a fan of everything interiors, she admits to being spoilt for choice living in the capital. From stunning architecture right the way through to eye-catching department store window displays, she believes there's always an angle to be found that can translate to our abodes.