Why Meghan Markle has stopped wearing her engagement ring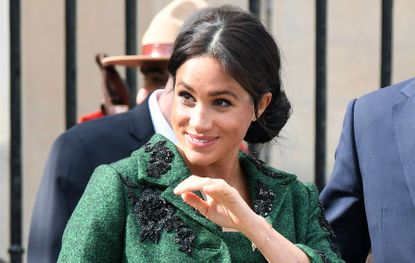 Meghan Markle has been spotted without her engagement ring, opting to wear only her wedding band instead.
Despite being eight months pregnant, Meghan Markle has remained an active participant in royal engagements.
The Duchess had a busy day yesterday as she and Prince Harry attended two events to mark Commonwealth Day, first heading to Canada House in central London, before joining the rest of the royal family at the annual Commonwealth Day Service at Westminster Abbey.
Read more: Meghan Markle reacts to her baby kicking in adorable video (opens in new tab)
The glowing mother-to-be looked effortlessly elegant throughout the day, however, one key accessory appeared to be missing: her engagement ring.
Fans have been speculating as to why the Duchess opted not to wear her engagement ring, pictured below, which includes gems that belonged to Princess Diana.
Before anyone panics that there might be trouble in paradise, however, the reason behind why Meghan decided to take it off is most likely a very simple one: her finger is swollen due to pregnancy.
Swelling is a very common occurrence in pregnancy. The most areas in which swelling is most likely to occur are the legs, ankles, feet and fingers.
This swelling is so common, in fact, that when Kate was pregnant with Prince Louis, she went to an appearance at a hospital without her sapphire engagement ring.
Read more: Meghan Markle could shun royal birth tradition and follow in Kate and Diana's footsteps instead (opens in new tab)
It's perfectly normal that the Duchess might be experiencing more intense swelling in these areas considering she's almost at the end of her pregnancy, therefore completely understandable that she might want to take a break by leaving her engagement ring at home.
According to the NHS, swelling occurs in pregnancy due to additional blood and fluid which the body produces to meet the needs of the developing baby. Throughout the day the extra fluid tends to gather in the lowest parts of the body, especially if the weather is hot or if you've been standing a lot.
The pressure of a pregnant woman's growing womb can also affect the blood flow in your legs, which can cause fluid to build up in your legs, ankles and feet.
Swelling can be fairly uncomfortable, but here are some things every pregnant woman can do to avoid and ease swelling:
avoid standing for long periods
wear comfortable shoes and socks - avoid tight straps or anything that might pinch
try to rest with your feet up as much as possible
drink plenty of water - this helps your body get rid of excess water
exercise - try to take regular walks during the day or doing foot exercises
There's no doubt that swelling is frustrating, but it's a totally normal and natural part of pregnancy so don't let it get you down - not even the royals are exempt!
Freelance Lifestyle Writer
Niamh McCollum is a freelance lifestyle writer who has written for Future titles GoodTo and Marie Claire UK, plus the Irish Independent. The Dublin-based journalist specialises in stories
affecting families - from health updates, to the freshest parenting debates and celebrity announcements.