Dads are officially more of a pushover than mums, new research has revealed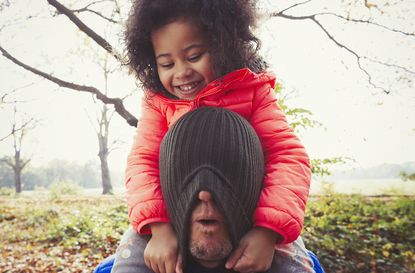 (Image credit: Getty)
GoodTo newsletter
Sign up to the GoodTo Newsletter. You can unsubscribe at any time. For more information about how to do this, and how we hold your data, please see our privacy policy
Thank you for signing up to . You will receive a verification email shortly.
There was a problem. Please refresh the page and try again.
New research has revealed that dads are officially more of a pushover than mums are.
A poll of 2,000 parents revealed mums are most likely to put their foot down over the time spent watching TV or playing computer games, the amount of sweets and fizzy drinks youngsters consume and bedtime.
Mums also call the shots when getting children to do their homework, eat everything on their plate and try new foods.
However, while dads are more lenient in those areas, there are some areas where they won't let kids off so easily.
Stats show that dads are laying down the law when it comes to their children's behaviour and discipline.
The study, by children's vitamins Wellkid, also revealed that four in 10 couples say they and their partner often adopt a 'good cop, bad cop' approach to parenting.
'Parents often have to work as a team when it comes to raising their children, with one of them taking the lead when it comes to being 'the strict one',' said a spokesperson for Wellkid from Vitabiotics.
Read more: Tiger parenting: what are tiger parents and am I one? (opens in new tab)
'And it seems mums are taking that title, with the results showing they are most likely to be the ones getting their children to do everything they should be doing, whether that's their homework, eating a balanced diet or simply not spending all day glued to a screen.
'But while dads may be adopting a more laidback approach to these aspects of parenting, they are still the ones keeping an eye on bad behaviour.'
The study also revealed that four in 10 mums and dads would describe their parenting style (opens in new tab) as soft while just 31 per cent reckon they are usually strict with their children.
And 41 per cent say mum has the title of 'The Strict One' in their household, compared to just three in 10 who name that as the dad's role.
But 65 per cent of parents believe they and their partner are both strict, just at different aspects of parenting.
Who is the stricter parent?
Homework - Mum (46 per cent) Dad (14 per cent)
Time spent watching the TV - Mum (37 per cent) Dad (22 per cent)
Time spent on computer games - Mum (37 per cent) Dad (20 per cent)
Eating everything on your plate - Mum (34 per cent) Dad (25 per cent)
How much sweets or chocolate is eaten - Mum (39 per cent) Dad (21 per cent)
How many fizzy drinks are drunk - Mum (36 per cent) Dad (17 per cent)
Getting children to bed at a certain time - Mum (39 per cent) Dad (22 per cent)
Getting children trying new foods - Mum (36 per cent) Dad (19 per cent)
Fruit and veg consumed by children - Mum (43 per cent) Dad (12 per cent)
Playing computer games older than their age - Mum (30 per cent) Dad (19 per cent)
Watching TV shows or films considered too old - Mum (31 per cent) Dad (19 per cent)
Playing with balls in the house - Mum (30 per cent) Dad (24 per cent)
Pocket money - Mum (25 per cent) Dad (24 per cent)
Buying children what they want - Mum (32 per cent) Dad (25 per cent)
Bad behaviour and punishment - Mum (28 per cent) Dad (31 per cent)
Is this the case in your household? Head over to our Facebook page to join the discussion and see how you compare…
Aleesha Badkar is a lifestyle writer who specialises in health, beauty - and the royals. After completing her MA in Magazine Journalism at the City, the University of London in 2017, she interned at Women's Health, Stylist, and Harper's Bazaar, creating features and news pieces on health, beauty, and fitness, wellbeing, and food. She loves to practice what she preaches in her everyday life with copious amounts of herbal tea, Pilates, and hyaluronic acid.