Tiger parenting: what are tiger parents and am I one?
Tiger parenting is a parenting technique often surrounded by controversy but what are the advantages and disadvantages of it?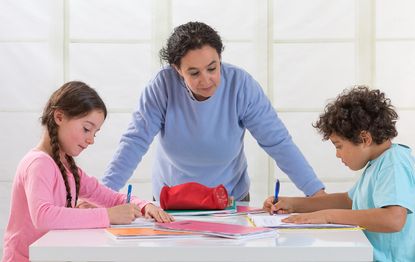 (Image credit: Alamy Stock Photo)
Tiger parents or tiger parenting is often seen as too strict and demanding but their argument is that this approach works, resulting in ambitious children who stand a better chance of success in adulthood.
Here, we shed light on the tiger parenting (also know as authoritarian parenting) debate, what the advantages and disadvantages are, and what to do if you think you are one.
What are tiger parents?
The term 'tiger parenting' has been popular since the 2011 release of Amy Chua's book Battle Hymn of the Tiger Mother. Part childrearing manual–part memoir, the New York Times bestseller draws attention to an authoritarian parenting style favoured in parts of Asia – especially China – and in families of Asian heritage.
Tiger parents demand that children follow a gruelling schedule of intensive studying and extra-curricular activities, particularly in high-earning, in-demand occupations such as law and medicine, then measure their children's success by these achievements. Chua (pictured, below, with her family) is a successful Chinese-American writer, lawyer and academic and a self-claimed 'tiger mom', who was raised this way by her Chinese immigrant parents.
Tiger parenting is not confined to China, however. Parental hothousing and control is found worldwide from the kyōiku mama, a Japanese version of the tiger mother, to the American 'stage mom'. Neither is it new; Leopold, father of the 18th century composer Mozart, was a tiger parent who relentlessly pressed his son to achieve great things musically.
In 2016, Queen Mary University, London, released a study on intensive mothering practices. Based on data from the US, the research by academics Almudena Sevilla and Jose Ignacio Gimenez-Nadal found that driven, educated mothers – commonly known as pushy or tiger mums – reported lower levels of wellbeing during child-related activities. 'The results,' Sevilla told The Times, 'suggest that there may be a link between what are regarded as the best parenting practices and more miserable motherhood.' What's more, Sevilla explained that the study raised 'questions about whether this accompanying maternal unhappiness may be harmful to children.' Though more research is needed the findings indicated that intensive parenting methods, of which tiger parenting is one, can have negative effects on both parents and children.
When does tiger parent behaviour show?
Tiger parenting 'can show from a child's infancy as many tiger parents will start trying to extend children academically from an early age,' says Dr Holan Liang, a London-based Consultant Child & Adolescent Psychiatrist who, like Chua, was pushed academically by her Chinese parents.
But, Liang explains, while some parents will teach their pre-school children some maths or a second language, 'not all of them are tiger parents. It starts to appear like tiger parenting if it becomes excessive.' Liang believes 'the introduction of a professional [such as a tutor] tends to make it feel a little bit more like tiger parenting, particularly if it is not the norm at that age.'
How is a child affected by tiger parents?
There are two main factors of tiger parenting, Liang explains, that could have damaging effects. The first is unrealistic expectations: 'It is very different to expect an A+ from a clever child than to expect an A+ from an average child.'
The second is the relationship between parent and child: 'If this is fun, warm and confiding in every other respect this counter-balances the intensity for high demands.' Parental approval, Liang says, 'contributes greatly to self esteem in children' – if this is given only when a child does well academically it can cause distress.
Are certain people more likely to become tiger parents?
Because Chua's book is titled Battle Hymn of the Tiger Mother it's often thought that mothers are more likely than fathers to be a tiger parent. Not so, says Liang, whose parents both fitted the tiger mould: 'It is only that in most cultures parenting is a largely female concept'.
In her post I Grew Up With a Tiger Parent and All I Got Was This Lousy Psychological Trauma, Aaminah Khan's tiger parent was her dad. Khan described tiger parenting as tantamount to 'child abuse' and after years of trying to please her 'affection-witholding' father she rebelled, left medical school and is now a writer. The feline label isn't even correct, Khan argues: 'Tigers, like most parents, are quite gentle with their cubs.'
Are there more tiger parents than ever?
There have always been driven, stern parents who want and expect more from their kids; before the tiger moniker was popularised they were known as pushy parents. Tiger childrearing is largely regarded as a Chinese parenting style but it's common in other Asian countries or in families of Asian heritage, where it's convention for children to obey their parents and work hard to prove their worth and make their families proud.
Tiger parenting is also more prevalent in the middle classes and families with educated parents as they are more likely to have the resources to pay for extra-curricular activities and tuition.
In January 2016, the-then-UK Prime Minster David Cameron delivered a speech on education praising the tiger parenting style and encouraging British parents and teachers to adopt the technique: 'Character – persistence – is core to success. No matter how clever you are if you do not believe in continued hard work and concentration, and if you do not believe that you can return from failure you will not fulfil your potential. It is what the Tiger Mother's battle hymn is all about: work, try hard, believe you can succeed, get up and try again.' While many welcomed Cameron's approach, it was also widely criticised as encouraging a restrictive system that stifles individuality and creativity.
Does tiger parenting work?
Like all parenting techniques, there are pros and cons. So, what are the benefits of tiger parenting? Advocates say the tiger way results in hardworking, motivated and conscientious children who grow into accomplished, successful adults. In an interview with the South China Morning Post, Liang said she had a 'very positive experience' and this 'push' led to her academic attainments. However, Liang admits that 'a lot of it was quite extreme' and that 'the Chinese tendency to put social skills as a lower priority is detrimental.'
Liang stresses that while 'many high-achieving parents have aspirations for their children and this is not a negative' in her book Inside Out Parenting she writes of the importance of both skills sets: 'outside things' such as academia and music exams and 'inside things' such as social skills. What is essential is that children know they are loved and supported, as she was, as this is what inspires self-esteem in kids.
Perhaps unsurprisingly, soon after the publication of Battle Hymn of the Tiger Mother the backlash began. In The Telegraph's feature Tiger mums, it's best to underparent research featured in American psychologist Dr Madeline Levine's book Teach Your Children Well was highlighted as a counterargument to tiger parenting. Levine discovered that teens from affluent, educated families who were pressured into doing well in order to gain sought-after school and university places were more likely to be emotionally troubled. The book also pointed out that, contrary to the tiger technique which tends to disregard sociability, employers look for well-rounded individuals with vital life skills such as the ability to get on with others.
In 2013, research published in the Asian American Journal of Psychology found that not only was tiger parenting harmful to children's personal welfare but also to their academic success. The paper Tiger Parenting, Asian-Heritage Families, and Child-Adolescent Well-Being stated that Chinese-American parents were increasingly choosing an encouraging attitude over the tiger method. In one study conducted at the University of Texas, Austin, of the 444 Chinese-American families followed over eight years 45 per cent were supportive; 28 per cent were tigers; 20 per cent were easy-going and 7 per cent were harsh, indicating that not only has the tiger trend been overplayed it's becoming outdated.
Tips to avoid becoming tiger parent
If you think you are a tiger parent Liang suggests you do the following:
1. Constantly check yourself and ask yourself if what you are expecting is reasonable for your child's age and ability.
2. Spend time getting to know and understand your child's natural ability and accept this is a good starting point.
3. It is a fact that some children are more able than others so realistic expectations are important.
4. Set the bar at achievable so you're not setting children up to fail or you could ruin their mental health trying.
5. Spend fun time building a strong and warm relationship with your children – this offsets the negative effects of having to be the enforcer of work at other times. Good times should at least double, if not treble, when some parental enforcement to work is required.
Freelance Lifestyle Writer
Debra Waters is an experienced online editor and lifestyle writer with a focus on health, wellbeing, beauty, food and parenting. She currently writes for Goodto and Woman&Home, and print publications Woman, Woman's Own and Woman's Weekly. Previously, Debra was digital food editor at delicious magazine and MSN. She's written for M&S Food, Great British Chefs, loveFOOD, What to Expect, Everyday Health and Time Out, and has had articles published in The Telegraph and The Big Issue.