Nick Carter announces birth of his first daughter with wife Lauren after two heartbreaking miscarriages
The Backstreet Boys star became a dad for the second time after two heartbreaking miscarriages.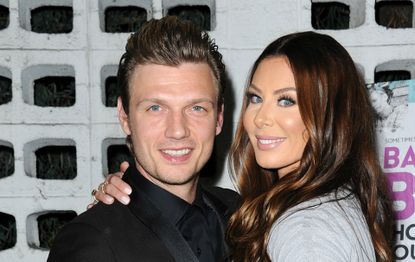 (Image credit: © Luis Martinez/AFF-USA.com)
The Backstreet Boys star Nick Carter has become a dad for the second time after two heartbreaking miscarriages.
Nick Carter announced that his wife Lauren Kitt had given birth to their 'rainbow baby' on Twitter on Thursday evening, writing: '10-2-19 my wife and I received the most beautiful gift a Father and Mother could ever ask for. We are overjoyed to announce that we welcomed into our family and this world a healthy beautiful baby girl. She came back to us. God is real!!'
Nick and Lauren revealed that they were expecting back in April, just months after a heartbreaking miscarriage. Lauren poured her heart out about the loss to fans on Instagram in March, sharing a picture of her ultrasound with the words: 'As a woman I am supposed to create life and failing to do so feels like failure as a human.'
Lauren went through another miscarriage before welcoming her first child with Nick, a son called Odin, three years ago.
The happy news comes just days after Nick revealed that he had been forced to take out a restraining order against his younger brother Aaron Carter amidst disturbing claims that he had threatened to kill Lauren.
'In light of Aaron's increasingly alarming behaviour and his recent confessions that he harbours thoughts and intentions of killing my pregnant wife and unborn child, we were left with no choice but to take every measure possible to protect ourselves and our family,' Nick said in a statement.
'We love our brother and truly hope he gets the proper treatment he needs before any harm comes to himself or anyone else,' he added.
On 13th September, Nick posted a photo of Lauren's latest scan online, writing: 'God please give me and my wife @Lauren_Kitt the strength to endure the next 3 weeks leading up to the birth of our new baby. We've waited so long for you little one. All your prayers for peace please.'
We hope the new parents get to enjoy some well-deserved time out with the latest addition to the Carter household.
Samantha is a freelance writer at Goodto who has been with team since 2019. Initially trained in psychology, she specialises in health and wellbeing and has additionally written for magazines such as Women's Health, Health & Wellbeing, Top Santé, Healthy, Refinery29, Cosmopolitan, Yahoo, CelebsNow, Good Housekeeping and Woman&Home.