Pippa Middleton reportedly in labour as she follows in sister Kate's footsteps
Not long now...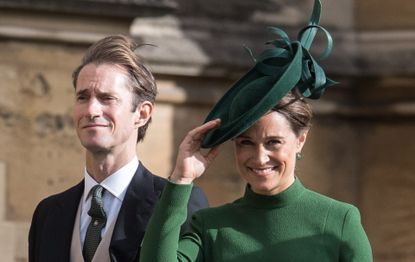 Pippa Middleton, who's nine months pregnant, has reportedly been spotted entering the Lindo Wing, where she'll be welcoming her first child.
According to reports, the expectant mum could now be in labour after she was seen arriving at hospital. She was quickly followed by husband James, who was seen carrying two overnight bags.
The 35-year-old is following in Kate's footsteps by giving birth at Lindo Wing, where the mum-of-three has welcomed all her children.
It's also where Princess Diana welcomed Prince William and Prince Harry, and Meghan will probably go there to give birth to her first child (opens in new tab).
It's not clear how Pippa and James - who confirmed their pregnancy in a column for Waitrose magazine (opens in new tab) - will announce the birth of her first child or how long they will wait until they share the lovely baby news with the public.
Just last week, Kate's younger sister attended Princess Eugenie's wedding alongside husband James Matthews and brother James Middleton and looked positively blooming in a forest green dress and matching fascinator.
The 35-year-old had last been snapped out in public at the Wimbledon Tennis Championships in July, and royal fans had been left guessing as to whether she would make it to the much-anticipated nuptials.
But it seems that Pippa wouldn't miss it for the world as she is said to share a friendship with Eugenie. The royal even attended Pippa's wedding in 2017 alongside her then boyfriend Jack.
While Pippa isn't letting her pregnancy hold her back from attending a variety of events, she has opened up about the toll the last stages of her pregnancy have taken on her body.
In her fitness column for Waitrose magazine she wrote: 'As the final month nears and the bump grows prouder each day, movement is certainly getting more awkward.
'As a result, one of the biggest changes is that my lower body has tightened up. The knock-on effect is making my back and sacrum both uncomfortable and achy. The transformations to my body that are taking place as it prepares for childbirth have meant that the sound sleeps and the baby bubble effect have gone. Reality is finally kicking in.'
The author and philanthropist then went on to share her top wellbeing tips for expectant mums, adding: 'With this in mind, a few things have proven invaluable in keeping me feeling more supple and also clear headed in preparation for the next phase – birth and beyond.
'These include stretching, meditating and walking. Without those three things I would certainly not feel as good as I do right now, and I hope they will continue to keep me sane and levelled for the months and years ahead.'
We can't wait to find out if they have a little boy or girl cousin for George, Charlotte and Louis...
Freelance Lifestyle Writer
Miriam Habtesellasie is a freelance lifestyle writer who has contributed content to GoodTo, Woman&Home, Women and Idealhome.co.uk. Miriam is based in London and is a fan of everything interiors, she admits to being spoilt for choice living in the capital. From stunning architecture right the way through to eye-catching department store window displays, she believes there's always an angle to be found that can translate to our abodes.