Meghan Markle and Prince Harry could have second baby soon according to royal expert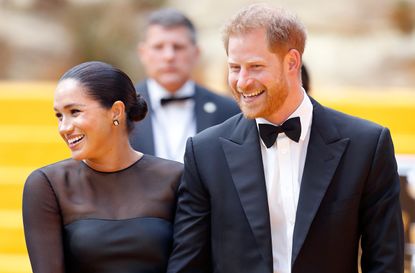 (Image credit: Getty)
Meghan Markle and Prince Harry might be set to have their second baby soon.
The Duke and Duchess of Sussex welcomed their first child, Master Archie Harrison, back in May.
And despite the fact that their two-month-old son, who was spotted out and about last week with mum Meghan, has only just recently been christened (opens in new tab), it seems like the pair may already be thinking about number two.
According to one royal expert, we could be seeing the Sussexes welcome their second child towards the later part of next year.
E!'s chief royal correspondent Melanie Bromley revealed the exciting prediction when asked by a royal fan about whether she thinks that Harry and Meghan will have anymore children.
'I do, and I think it will be really soon,' she said. 'I think she will be pregnant by this time next year.'
While this may sounds like relatively bold statement to make, the logic behind Melanie's prediction actually makes a lot of sense.
'They have Africa in the [autumn], which will keep them really busy, so after that,' she said.
Last year when the Sussexes had their tour to Australia, New Zealand, Fiji and Tonga planned, royal fans were convinced that the pair would wait until they returned to start trying for a baby (opens in new tab).
However, it turned out that the Duchess was already pregnant by then, as the pair announced the exciting news (opens in new tab) on the first day of their trip.
This was only five months after the royal pair tied the knot (opens in new tab) in their lavish Windsor ceremony, which suggests that the couple would prefer to move quickly when it comes to extending their family.
And even the bookies are behind this theory.
Bookmaker Coral told the Express that they had been 'inundated' with bets on the second Sussex baby making its appearance sometime in 2020.
Suggesting that any insider speculation could actually have some traction behind it, a spokesperson for the bookmaker said: 'There is seldom smoke without fire.'
Looks like it might be time for bump watch 2.0!
Aleesha Badkar is a lifestyle writer who specialises in health, beauty - and the royals. After completing her MA in Magazine Journalism at the City, the University of London in 2017, she interned at Women's Health, Stylist, and Harper's Bazaar, creating features and news pieces on health, beauty, and fitness, wellbeing, and food. She loves to practice what she preaches in her everyday life with copious amounts of herbal tea, Pilates, and hyaluronic acid.