Why Prince Harry and Meghan Markle will spend Valentine's Day apart
It will be their first year as a married couple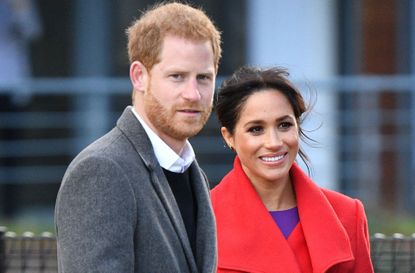 Prince Harry and Meghan Markle won't be spending their first Valentine's Day as a married couple together, here's why…
Prince Harry and Meghan Markle should be making the most of the time they have left together as just a pair as soon, they'll have a little boy or girl to look after.
The couple have had a fairy tale-esque romance. They were married just a few months after getting engaged (opens in new tab) in a beautiful ceremony at Windsor Castle (opens in new tab) and just months after they said I Do the couple announced they were expecting. (opens in new tab)
But, on perhaps the most romantic day of the year, where couples like to fuss over their partners without any explanation other than it's Valentine's Day, Harry and Meghan will be apart.
This will be their first Valentine's Day as husband and wife but due to royal duties, Prince Harry will be out of the country.
Planning your Valentine's Day feast already? Head this way to explore our best Valentine's recipes… (opens in new tab)
As part of his role as Captain General of the Royal Marines, Prince Harry will be heading over to Norway to celebrate the 50th anniversary of the Exercise Clockwork operation.
The operation is cold weather training and has trained over 16,000 Royal Marines and Royal Navy sailors and airmen since 1969, according to the Forces Network.
It's thought that last year Harry and Meghan spent Valentine's Day together in Scotland, as they had an official engagement in Edinburgh the day before.
Sadly for Meghan it seems she'll have to rope in her girlfriends for a Galentine's Day of love instead.
We're sure Harry will have flowers sent to his wife while he is away and will no doubt make it up to her when he's back from work…
How will you be spending Valentine's Day? Can you remember your first Valentine's Day with your partner? Was it a huge success? We'd love to hear your stories, the good, the bad and the ugly! Head over to our Facebook page to get involved…