Prince Louis and Princess Charlotte look identical in side-by-side pictures
The resemblance is uncanny!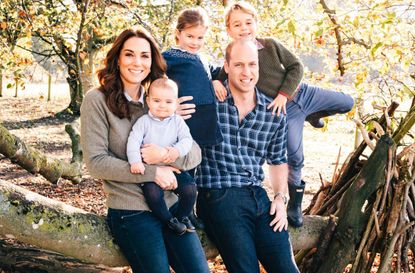 GoodTo newsletter
Sign up to the GoodTo Newsletter. You can unsubscribe at any time. For more information about how to do this, and how we hold your data, please see our privacy policy
Thank you for signing up to . You will receive a verification email shortly.
There was a problem. Please refresh the page and try again.
Princess Charlotte is always having her looks compared to the Queen but now the little royal has her own look-a-like and it's her little brother Prince Louis!
Prince Louis stole the show in the new Royal Christmas card and for good reason.
We haven't seen much of the seven-month-old since he was born in April and the first proper pictures of him were released last month for Prince Charles' 70th birthday. (opens in new tab)
So when the Royal family released another adorable portrait featuring the Cambridge's youngest son, it's safe to say royal fans almost lost it with excitement.
One person exclaimed: 'Prince Louis is just 😍😍😍' and another said: 'What a handsome baby'.
Even at just three-years-old Princess Charlotte will be used to having look-a-like comparisons drawn almost every time she steps out into the public eye.
Why Prince Louis is wearing tights while Prince George is wearing trousers for the first time in an official portrait (opens in new tab)
While many royal fans believe that Kate and William's only daughter has an uncanny similarity to the Queen as a child, others think she looks just like her late-grandmother Princess Diana's niece. And now Princess Charlotte has her own little mini-me in the form of her younger brother Prince Louis.
If you compare the Cambridge's 2015 Christmas card, which features a then two-year-old Prince George and Princess Charlotte who is around seven-months-old, to the 2018 Christmas card, the resemblance between Prince Louis and his sister is hard to miss. The siblings are even giving the camera the same adorable smirk and definitely inherited Kate's dark hair and eyes.
Prince Louis and Princess Charlotte's birthdays are around three weeks apart so at the time the portraits were taken they were very similar ages of around seven-months, this helps to explain why the similarities are so easy to see.
Kensington Palace shares unseen photo from Prince Harry and Meghan Markle's wedding for Christmas card (opens in new tab)
Another adorable detail that you might have missed, other than Princess Charlotte re-wearing Prince George's blue cardigan, is the fact that Prince Louis is holding onto his mother's hand.
One person wrote on Twitter: 'Prince Louis Holding Kate's Hand in Their Christmas Card Is So Pure'.
Who stole the show in the Cambridge's Christmas card for you? Prince George, Princess Charlotte and Prince Louis?