Kensington Palace shares unseen photo from Prince Harry and Meghan Markle's wedding for Christmas card
The couple look lovely in the special new photograph...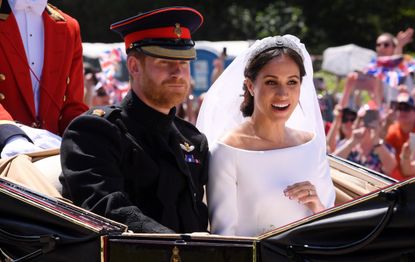 Prince Harry and Meghan Markle look lovely in a new photograph released by Kensington Palace, in what is their first Christmas card as a married couple.
Meghan Markle and Prince Harry are going to be celebrating their first Christmas as a married couple this year and it will be their last one as a unit of two.
To celebrate, the royal family have released a never before seen picture from Prince Harry and Meghan's wedding which took place in May this year.
The tweet from Kensington Palace reads: 'The Duke and Duchess of Sussex are delighted to share a new photograph from their Wedding Reception at Frogmore House on 19th May. The photograph, which features on Their Royal Highnesses' Christmas card, was taken by photographer Chris Allerton.'
The photo comes just minutes after Kensington Palace shared a brand new Christmas portrait of the Cambridges and is proving very popular.
Read more: Prince Harry and Meghan Markle won't have full custody of their children because of this royal rule
It's already been re-tweeted by over 400 people and has more than 2,000 likes, which is sure to multiply over the next few hours. One royal fan wrote: 'What a beautiful photo of such a happy couple!'; while another said: 'This is such a wonderful picture of these two wonderful people, may I wish them blessings and love for now and the future beyond Christmas🤗'.
Several royal fans also commented that while they are delighted to see this new picture, they cannot wait to see Prince Harry and Meghan with their new little boy or girl in spring.
The new Christmas card picture comes just a week before the festivities kick off and it's going to be a very special one for Harry and Meghan.
Meghan's mum Doria is said to have been invited to spend Christmas day with the royals at Sandringham and Kate and William will also be there with their three children.
The Cambridge's usually alternate between the royals and Kate's family but for the second year in a row they'll be joining Meghan, Harry, Prince Charles, Camilla and of course, the Queen and Prince Philip for the festivities.
Jessica currently works as a Senior Food Writer at Future. She writes food and drink-related news stories and features, curates product pages, tests, and reviews equipment, and also develops recipes that she styles on food shoots. An enthusiastic, self-taught cook Jess adores eating out and sharing great food and drink with friends and family. She has completed the Level 1 Associate course at the Academy of Cheese and is continually building on her knowledge of beers, wines, and spirits.