Kids can now get a send their letters to Santa in a musical Christmas postbox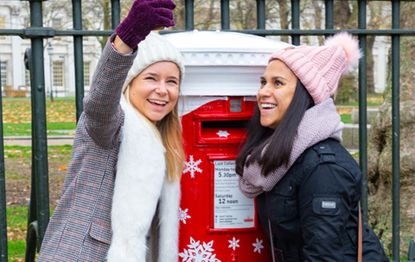 Royal Mail has launched special 'singing' postboxes just in time for Christmas.
Their 'singing' postboxes have been installed around the country to bring some extra magic to kids hoping that their letters to the North Pole will reach Santa in time for the big day.
And for adults, the musical postboxes will bring a bit of yuletide cheer to one of the many mundane tasks Brits face during the Christmas period.
Send a letter to Santa with our FREE template
Installed with movement sensors that trigger the festive jingles, the boxes respond to post with one of three jolly tunes, including the ring of sleigh bells and a merry greeting from Father Christmas.
Throughout the country there will be four of these special boxes, each decorated with seasonal snowflakes to indicate that it's one of the musical editions.
Starting to be launched throughout the course of this week, the boxes will be in busy hotspots in London Greenwich, Cardiff, Edinburgh and Belfast.
London and Cardiff residents were the first to test out the festive boxes on Monday 26 November, while it will come to Belfast on Tuesday 27 November and Edinburgh on Wednesday 28 November.
'Delivering Christmas is our absolute priority this December,' said Simon Barker, Operations Director at Royal Mail.
'In the process, we enjoy any way we can add a little extra fun (and festivity!) to posting Christmas cards this year.'
This is the first time that the national service has installed these extra-special festive postboxes, however it's not the first time that they've made a change to their signature red postboxes.
Back in 2012 when London hosted the Olympic Games, Royal Mail got rid of a select few of their iconic British red postboxes in favour of special edition gold postboxes. This was done to honour the Olympians who won gold medals during the games, as the celebratory postboxes were installed in the winning athletes' hometowns.
Aleesha Badkar is a lifestyle writer who specialises in health, beauty - and the royals. After completing her MA in Magazine Journalism at the City, the University of London in 2017, she interned at Women's Health, Stylist, and Harper's Bazaar, creating features and news pieces on health, beauty, and fitness, wellbeing, and food. She loves to practice what she preaches in her everyday life with copious amounts of herbal tea, Pilates, and hyaluronic acid.