Spencer Matthews and Vogue Williams reveal the name of their baby boy
We love it!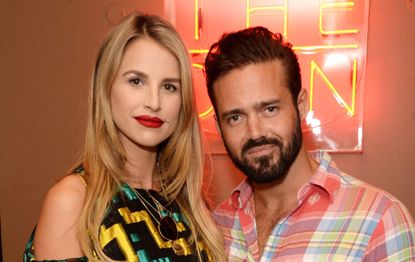 Former Made in Chelsea star Spencer Matthews has revealed the name of his first child with model wife Vogue Williams, much to fans delight.
Two weeks after welcoming his son into the world, proud dad Spencer took to Instagram to share his baby name (opens in new tab) and open up about the joys of fatherhood.
'Our son Theodore is already nearly two weeks old!!' he wrote.
'Time really does fly when you're having the time of your life! Having a child with my wife and soulmate is nothing short of a dream come true. Feeling very lucky and absolutely LOVING fatherhood!!!', he added.
Vogue has since given birth to their third child (opens in new tab).
Reacting to the news, fans of the first-time father and reality TV star couldn't have been more excited.
One user said: 'Great name! Our son Theodore Marshall is 7 months'
While a another added: 'Absolutely gorgeous!! Congratulations to you both and I love his name! I have two boys and it's the best albeit noisy.'
Vogue also took to Instagram to share her delight and pride at becoming a new mum, writing: 'My whole world has changed with the arrival of our beautiful boy Theodore. The last two weeks have been the best of my life. I am loving every minute of being a mother, even the very sleepy wake up calls at night. Spencer and I have never felt love like it, Theodore you are our world...'
2018 has certainly been an exciting year for Spencer, 29, and Vogue, 32. As well as becoming parents to Theodore, the couple also married in June, exchanging vows in front of family and friends at the Spencer family's 30,000-acre Glen Affric estate in Scotland.
Speaking to Hello magazine (opens in new tab) about his memories of the day, Celebrity Masterchef star Spencer recalled: 'At the time it was so wonderful but almost dreamlike. It took a little while to sink in, but I certainly feel married, settled, and happy.'
And the happy news is set to continue for the pair. Spencer will become a loving uncle in the coming months as his older brother James, 43, is expecting his first child with wife Pippa Middleton, 35.
A huge congratulations to Spencer and Vogue, and a big hello to little Theodore!
Freelance Lifestyle Writer
Miriam Habtesellasie is a freelance lifestyle writer who has contributed content to GoodTo, Woman&Home, Women and Idealhome.co.uk. Miriam is based in London and is a fan of everything interiors, she admits to being spoilt for choice living in the capital. From stunning architecture right the way through to eye-catching department store window displays, she believes there's always an angle to be found that can translate to our abodes.