Made in Chelsea's Tabitha Willett is expecting her first child with Prince Harry's friend Fraser Carruthers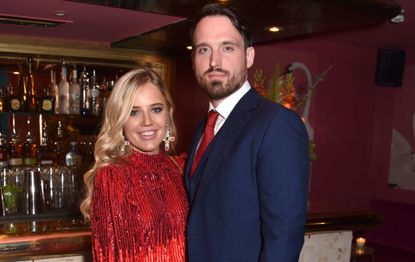 (Image credit: Getty)
Tabitha Willett has revealed that she is expecting her first child with partner Fraser Carruthers.
The former Made in Chelsea star took to social media to reveal the happy news that she is expecting a baby daughter, due in June.
Alongside a sweet photo showing three progressive scans of her baby, Tabitha wrote: 'baby girl Carruthers coming June 2019 so filled with love and can't wait to meet her'.
Fans rushed to congratulate the expectant mum, writing: 'CONGRATULATIONS I'm over the moon for you!!!' 'amazingly fantastic news for both of you!' 'So lovely to be having a girl 💕 Huge congratulations' and 'wonderful news she will be a beauty that's for sure! Congratulations again and we hope to meet your little lady one day, take care and rest up xxxxx'.
The 27-year-old's Made in Chelsea pals also left well-wishes for the former marketing director, who worked with jewellery designer Rosie Fortescue.
These included reality star Ollie Locke, who is pictured with Tabitha below and recently announced his engagement (opens in new tab) to his long-term partner, who wrote: 'So delighted for you angel Xxx'.
This will be the first child for the reality star and her nightclub mogul boyfriend Fraser, who co-owns private members club Albert's, which counts Prince Harry as one of its loyal members.
The expectant parents, who have been together on and off since 2016, met when Tabitha worked as a marketing director for the exclusive club.
'It quickly became romantic,' said Tabitha, speaking to FEMAIL. 'It was very on-off for a long time before we became official and moved in together in November 2017.'
After a brief breakup during which time the mum-to-be appeared on Made in Chelsea: Croatia, the pair rekindled their relationship.
'We found out about the pregnancy after we got back together and were happily living together and speaking about our future,' she said.
'The pregnancy has come as such a happy and welcome surprise to both of us. It has brought us so much closer together and we can't wait to meet our little girl. Fraser will be a very protective father.'