Wayne and Coleen Rooney's move back to the UK confirmed as he reveals real reason behind it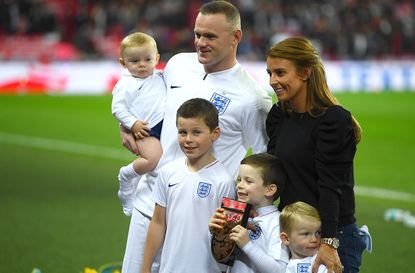 (Image credit: Getty)
Wayne Rooney has revealed that his family were a priority in deciding to move back to the UK.
The footballer, who moved over to Washington DC with his family of five back in June 2018 to play for American football team D.C. United, has signed with England Football League Championship team Derby County.
It was revealed yesterday that he would be returning to England with his family ready to start work with the football team in January 2020.
The 33-year-old has spoken out about the move, saying that a big reason for the decision was because he was prioritising his young family.
The dad-of-four, who shares nine-year-old Kai, six-year-old Klay, three-year-old Kit and one-year-old Cass with wife of 11 years Coleen, spoke about the surprise move in a press conference, saying: 'It is something we looked at, having four young boys and for my eldest boy (Kai) it is a crucial time with school.
'It is the most important thing for me but it wasn't a decision solely on family.
'A few factors led to me coming back here,' he continued.
Read more: Coleen Rooney reacts to critics who slammed pic - can you spot why? (opens in new tab)
He added that he would like to follow former England team-mates Steven Gerrard and Frank Lampard into football management, saying: 'It is great to see [Frank] Lampard and [Steven] Gerrard going into management but it is something I have always wanted to do.
'It's great to see them with the opportunity,' he continued. 'The last 15 to 20 years we haven't seen young English players getting opportunities. But my first aim is to play.'
The shock news comes only a few weeks after Wayne and Liverpool-born Coleen celebrated their 11th wedding anniversary.
Taking to Instagram to celebrate the milestone, he uploaded a sweet photo of the couple on their wedding day, captioning the snap: 'Happy Anniversary @coleen_rooney. 11 years today! Love you girl ❤️😘'.
Good luck to the family on their big move back!