When can soft play areas open? Dates for England and rest of the UK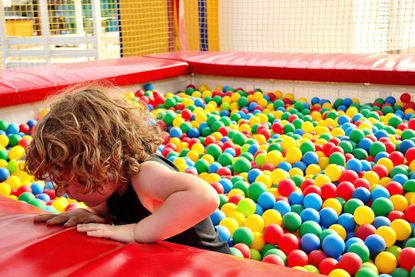 GoodTo newsletter
Sign up to the GoodTo Newsletter. You can unsubscribe at any time. For more information about how to do this, and how we hold your data, please see our privacy policy
Thank you for signing up to . You will receive a verification email shortly.
There was a problem. Please refresh the page and try again.
When can soft play areas reopen? It's a question many are asking, as lockdown rules changed on May 17 (opens in new tab).
From this early summer date, families can enjoy a taste of 'normality' as kids have gone back to school after lockdown, baby and toddler groups (opens in new tab) have been allowed to resume, and swimming pools have reopened (opens in new tab) again under the government's lockdown roadmap (opens in new tab).
Many of the social restrictions have been lifted, including the rules on staying overnight with family (opens in new tab), but there are still some in place until lockdown finally comes to an end.
When can soft play areas open in England?
Soft play centres reopened on Monday 17 May 2021. This re-opening date was confirmed by Boris Johnson in a press conference a week prior.
The Prime Minister first announced his intention for indoor play areas to re-open along with his roadmap out of lockdown strategy on 22 February.
Under Stage 3 of the roadmap (opens in new tab), which will to come into effect on 17 May, Boris said, "Indoor hospitality (opens in new tab), entertainment venues such as cinemas and soft play areas, the rest of the accommodation sector, and indoor adult group sports and exercise classes will reopen."
After a government review this month, the Prime Minister declared that Stage 3 proceedings would indeed come into effect from the third week of May.
As part of the re-opening, soft play centres are thought to be reducing visitor numbers. It will be mandatory to pre-book a time slot online in order to visit. So make sure you check what the booking system is at your local soft play centre before turning up.
Other likely measures include temperature checks on arrival, increased cleaning and hand sanitiser stations. Plus, visitors over the age of 12 will have to wear a face covering (opens in new tab) inside and should practice social distancing at their discretion.
When can soft play areas open in Wales?
Children's soft play centres reopened on May 17 in Wales.
Much like England's lockdown lifting, Wales' indoor hospitality sector, cinemas and museums (opens in new tab) re-opened on this date too.
Covid safety guidelines are also expected to be in place when the soft play centres are open. If in doubt, be sure to check your local indoor play area's website or call ahead of your visit.
When can soft play areas open in Scotland?
Scotland has lifted further restrictions recently, but for the moment soft play centres remain closed.
They are not expected to re-open before 7 June at the very earliest, though this date is a mere guideline and one that requires confirmation from First Minister Nicola Sturgeon.
Soft play areas have been closed since the first lockdown in March 2020. Upon reopening, spaces will be enforcing social distancing and have to have capacity constraints in all venues.
There is some good news though as outdoor organised activities for children and young people up to 18 is now allowed. Providing that there are no more than two adults at any one time and that the overall group size does not exceed 15 people.
This is one of many new rules that came into effect on Monday 17 May. And it's hoped that if this phase goes well, then a decision on soft play centres could be revealed in the next government review.
When can soft play areas reopen in Northern Ireland?
A provisional date of 24 May has been given with regards to the re-opening of soft play areas in Northern Ireland. So at present, play centres remain closed.
The roadmap out of lockdown in Northern Ireland works under review dates, rather than set dates for lifting restrictions. So, soft play area could reopen again after the next review on May 20.
Since the last review on April 15, all pupils have now returned to school and the 'stay at home' message has been replaced with 'stay local'.