When will the next Prime Minister be announced?
The next PM is expected to be announced before the end of the week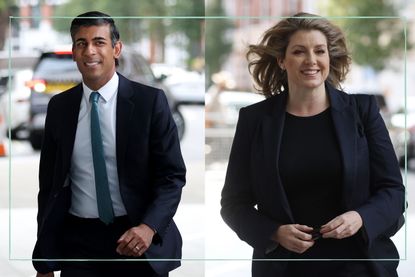 (Image credit: Getty Images / Future)
Just two Conservative MPs have put their names forward to replace Liz Truss, leaving many wanting to know when will the next Prime Minister be announced?
For those wondering what happens when a Prime Minister resigns (opens in new tab), the process is usually a long one, with campaign speeches, votes in Westminster and TV debates. But now that Liz Truss has resigned just a matter of weeks after the last leadership contest, this time round promises to be a much quicker affair.
The new PM is expected to be announced in a matter of days, leaving the contenders with little time to lay out their campaigns. Understandably, the electorate have many questions about the potential future leaders - such as what is Rishi Sunak's net worth (opens in new tab) and did Penny Mordaunt support Brexit (opens in new tab) - but what we're all keen to know is when will the next Prime Minister be announced.
When will the next Prime Minister be announced?
The next Prime Minister could be announced as early as Monday 24 October. The contenders need to have backing from at least 100 Conservative MPs before the end of the day to run, so if only one reaches this threshold they will automatically become leader of the Conservative Party.
However, if more than one candidate receives the necessary backing, the new Prime Minister will be announced on Friday 28 October. This is to allow time for a vote in Westminster - so Conservative MPs can show their preference - followed by an online vote from party members, which will make the final decision on who becomes the next PM.
There are currently 357 Tory MPs in Parliament, meaning that at most only three candidates could reach the required numbers of backers. Rishi Sunak is the current frontrunner with over 150 MPs publicly supporting him, while Penny Mordaunt lags behind with 26. Ex-PM Boris Johnson, who initially indicated that he would run, had the support of roughly 60 MPs before announcing that he would no longer be running.
What time will the next Prime Minister be announced?
If only one candidate reaches the threshold of support from Tory MPs, the new leader will be announced when nominations close at 2pm on 24 October.
However, if it goes to a vote by the party membership, it is unclear what time the winner will be announced on Friday. It is also possible that the winner will be revealed before the end of the week, if either Rishi Sunak or Penny Mordaunt decide to pull out of the race. This would mean that the other candidate would automatically become the next PM.
Sir Graham Brady (opens in new tab), who is chairman of the 1922 Committee and will be running the election, has said: "I have spoken to the party chairman Jake Berry and he has confirmed that it will be possible to conduct a ballot and conclude a leadership election by Friday the 28th of October. So we should have a new leader in place before the fiscal statement which will take place on the 31st."
Who is going to be the next Prime Minister? Tory candidates
There are two candidates currently in the race to become the next Prime Minister: Rishi Sunak and Penny Mordaunt, both of whom ran in the previous leadership contest.
However, the rules for this contest are very different to the one that was held in the summer, with the threshold of of support now much higher and only one vote in Westminster instead of five. It is thought that these changes have been made to both speed up the process and ensure that whoever wins has the support of the majority of Conservative MPs.
For many voters, how the candidates plan to tackle the cost of living crisis is the most pressing issue. In the previous leadership race, Rishi Sunak indicated that he would provide further financial support for those struggling, saying "This winter is going to be extremely tough for families up and down the country, and there is no doubt in my mind that more support will be needed.
"Bills are going up by more than anyone expected and the next government will need to act."
Meanwhile, Penny Mordaunt recently revealed her approach in an article for The Telegraph (opens in new tab), saying, "My plan for government will focus on delivering a lower tax, higher productivity economy, underpinned by essential financial stability which will, over time, deliver growth and prosperity for people right across the UK," and promising to "continue the Government's policy of helping people deal with the rising cost of living."
Rishi Sunak (Odds: 1/50)
Former Chancellor Rishi Sunak was one of the first of many ministers to resign (opens in new tab) from Boris Johnson's government earlier in July. In his resignation letter (opens in new tab), the Chancellor said that the public expect government to be conducted "properly, competently and seriously," and that he felt his own approach to the economy was "fundamentally too different" to that of Boris Johnson.
First elected to Parliament in 2015 as the MP for Richmond (Yorkshire), Sunak served as chief secretary to the Treasury and parliamentary under secretary of state at the Ministry of Housing, Communities and Local Government before his appointment as Chancellor.
He's well known to the public for schemes such as 'Eat Out to Help Out' during the pandemic, and more recently the £150 council tax rebate (opens in new tab). Now, people are keen to know more about the former Chancellor, from who he's married to, to how he voted on Brexit (opens in new tab).
He has the backing of several high-profile Tory MPs, including Priti Patel, Michael Gove, Lord Frost and David Davis. Online betting company William Hill (opens in new tab) put Sunak's odds of becoming PM at a very comfortable 1/50.
The United Kingdom is a great country but we face a profound economic crisis.That's why I am standing to be Leader of the Conservative Party and your next Prime Minister. I want to fix our economy, unite our Party and deliver for our country. pic.twitter.com/BppG9CytAKOctober 23, 2022
See more
Penny Mordaunt (Odds: 12/1)
Penny Mordaunt is currently Leader of the House a Commons, a role which sees her organise government business in the Commons and work closely with the chief whip. Prior to this role, she was a minister at the Department for International Trade and the department's disability champion.
Mordaunt has been MP for Portsmouth North since 2010, and during that time has also served as paymaster general and secretary of state for International Development. In 2019 she became the first woman to hold the post of secretary of state for Defence.
She voted leave in the 2016 EU referendum, describing Brexit as a "massive opportunity to anyone who believes in democracy".
Mordaunt has far fewer backers than Rishi Sunak, but former secretary of state for Business, Energy and Industrial Strategy Andrea Leadsom has publicly declared support. William Hill puts her odds of becoming PM at 12/1.
When did Liz Truss become Prime Minister?
Liz Truss was appointed as PM by Queen Elizabeth II on 6 September 2022 at Balmoral (opens in new tab). Liz Truss also became Prime Minister through a leadership contest, which she won in September after defeating current frontrunner Rishi Sunak in the final round, winning 57.4% of the party membership vote.
The leadership contest was called when former Prime Minister, Boris Johnson, announced he would be stepping down following a slew of his own ministers resigning (opens in new tab), prompted by the fallout from partygate and the Chris Pincher scandal.
However, Liz Truss resigned (opens in new tab) after just 44 days in office, her tenure plagued by U-turns and party in-fighting. Her departure left many asking what happens when a PM resigns (opens in new tab) and how much do ex-Prime Ministers get paid? (opens in new tab)
Video of the Week
Ellie joined Goodto as a Junior Features Writer in 2022 after finishing her Master's in Magazine Journalism at Nottingham Trent University. Previously, she completed successful work experience placements with BBC Good Food, The Big Issue and the Nottingham Post, and freelanced as an arts and entertainment writer alongside her studies. In 2021, Ellie graduated from Cardiff University with a first-class degree in Journalism.