When will I get paid the £150 council tax rebate? Eligibility and payment process explained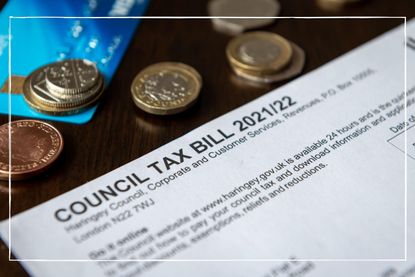 Goodto Newsletter
Parenting advice, hot topics, best buys and family finance tips delivered straight to your inbox.
Thank you for signing up to GoodTo. You will receive a verification email shortly.
There was a problem. Please refresh the page and try again.
Many are wondering when will I get paid the £150 council tax rebate? This follows a government announcement in February to help ease the pressure on the rising cost of living.
Recently resigned Chancellor Rishi Sunak announced a £9 billion energy crisis support package in early 2022. This included a £150 council tax rebate for those on the lowest council tax bands A to D. "The council tax rebate was considered a relatively quick and easy way of getting £150 to families to help them deal with the enormous increases in the cost of living," says Sarah Coles, personal finance analyst with Hargreaves Lansdown. "It's a useful start and will soften the blow for a few months, but won't come close to covering the extra cost of energy."
Millions of households are currently face a wave of price hikes right now as the cost of living rises at its fastest rate for thirty years. So, the council tax rebate is a very welcome discount. We explain what the rebate is and if you will get it.
Bear in mind that this one-off rebate is different to a council tax refund that you could be due if you have overpaid your council tax.
Will I get a council tax rebate?
Around twenty million homes in England will qualify for a £150 council tax rebate. Whether you get this 'one off' payment will depend on your council tax band, which is based on the value of your home. Homes within the lower council tax bands between A to D will all get the £150 rebate.
Some households within property bands A to D - where occupants don't pay the full rate of council tax - because of a single person 25% discount will also be eligible for the full £150 rebate. The only exceptions are those with a second property within these bands. And the council tax rebate is not payable on empty properties.
Within Scotland, nearly two million households, will be in line for a £150 rebate, which, as in England, is payable for properties in council tax bands A to D. It will also apply for homes within these bands that incur council tax reductions.
In Wales, properties within bands A to D will get a £150 payment. Those who are eligible for council tax reductions, regardless of their property band, also qualify.
When will I get paid the £150 council tax rebate?
The UK Government have not confirmed a specific date but instead have stated that the council tax rebate will be "paid as soon as possible from April". The rebate payment is being organised by local authorities and households will receive the payment automatically - direct to their bank account.
According to the Local Government Association (LGA) those in England and Scotland who pay their council tax via direct debit will likely receive their payments first. Whilst those who pay manually are likely to be contacted first by their local council to sort out the repayment. Similalrly those who pay manually in Scotland will instead receive the £150 as credit towards council tax bills.
The Welsh Government is currently working with local authorities on the rebate scheme and further details on how the money will be paid, are yet to be announced.
The good news is that those who are eligible – council tax payers living in band A to D homes - need not apply to receive the rebate. The refund should just appear in your account in time. If you have any concerns though, you can always contact your local council for further information.
If you are struggling to pay your bills, despite the council tax rebate, make sure you read our guide on what to do if you can't afford to pay your council tax.
How to find out your council tax band
If you're unsure which council tax band you're in and whether you'll qualify for the £150 rebate, there's two easy ways to find out. You can either dig out your most recent council tax bill, which will have details of your banding, or use a postcode checker tool.
For properties in England and Wales you can check your council tax band online and within Scotland go through the Scottish Assessors Association.
Who is excluded from the rebate?
Households on higher council tax bands, from 'E to H' don't qualify for the £150 rebate. However the Chancellor said local authorities in England will be given a, "discretionary fund of nearly £150 million to help lower-income households in higher Council Tax bands, and households in bands A-D who are exempt from Council Tax".
If you fall into one of these categories, it's worth contacting your local authority to ask about the additional financial support.
When it comes to homes in Scotland, Wales and Northern Ireland, these devolved governments are being given a £565 million pot of cash, as part of the Council Tax Energy Rebate which they can use in their own way for financial support.
How to appeal a council tax band
If you're on a higher, (more expensive), council tax band than your neighbours, yet the properties are of a similar size and design, you may have a case to appeal against your council tax band. You can start the process of challenging your council tax band through the Valuation Office Agency. It's free to do this, regardless of the outcome. Before you start, it's worth doing some detective work, especially as you may be asked to provide evidence.
Check which band your neighbours are on. For properties in England, this can be done through the Government website and the Scottish Assessors Association for Scotland.
You should also find out your property value in 1991, when council tax bands were set, which is easy to do using an online calculator like Nationwide's House Price Calculator.
Check this back against the government's advice on assessing council tax bands and if it doesn't match the one you're currently on, you may have a case.
Last year, over 40,000 households challenged their council tax band, according to the latest Government figures. One in three cases, this resulted in bands being lowered.
Video of the Week
Parenting advice, hot topics, best buys and family finance tips delivered straight to your inbox.
Sue Hayward is a personal finance and consumer journalist, broadcaster and author who regularly chats on TV and Radio on ways to get more power for your pound. Sue's written for a wide range of publications including the Guardian, i Paper, Good Housekeeping, Lovemoney and My Weekly. Cats, cheese and travel are Sue's passions away from her desk!