Fearne Cotton opens up about mum guilt and the importance of finding time for yourself
'There is no free time, so it is carving out chunks of time'.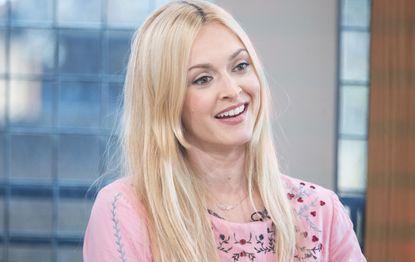 GoodTo newsletter
Sign up to the GoodTo Newsletter. You can unsubscribe at any time. For more information about how to do this, and how we hold your data, please see our privacy policy
Thank you for signing up to . You will receive a verification email shortly.
There was a problem. Please refresh the page and try again.
Fearne Cotton has opened up about the importance of carving out time for yourself, especially when you become a mum.
Author, radio presenter and TV personality Fearne Cotton has recently launched her latest collection for the Boots Mini Club (opens in new tab) range and admits juggling work and family life is a constant struggle.
Speaking to GoodtoKnow, mum-of-two Fearne who is married to musician Jesse Wood, admitted that no matter how hard you try, you'll probably feel some level of guilt when you become a mum.
She said: 'It is definitely hard, there is no way around it. It's a constant juggle and it is challenging and there is a lot of guilt, it's the same for any woman. Whether they have chosen to go back full time or not to work, there are tricky feelings around it - you just have to do what feels right for you.'
Fearne admitted: 'I'm trying to do a bit of both and sometimes I feel like I've nailed it, and I've had a good week - and other times, I don't feel I have. It's a working progress.'
Even with a busy work schedule Fearne stresses you have to find time to wind down too, so that you don't lose yourself in parenthood and work.
She stressed: 'There is no free time, so it is carving out chunks of time. It's important for me and Jesse, we both do it.
'I am lucky that my work is really enjoyable, so I have a big creative outlet in that way, but when I'm at home and Jesse is there, then I love going on a run or doing a bit of yoga or just reading in bed at night... just time when it is me, and I can either think or not think and just be without the chaos of family life.'
Fearne emphasises that although it's lovely having a hectic family life, it can still be very draining and like everyone she enjoys a break from it.
She said: 'And it is lovely chaos but it is a chaos, so it is really important that people find something that makes you feel good. It will be different for everyone but you need to have a little something otherwise you do go a but stir crazy with it all.'
How do you wind down from family life and work? Do you have any tips that work well for you and your family? Head over to our Facebook page to join the conversation, we'd love to hear your thoughts!
Jessica currently works as a Senior Food Writer at Future. She writes food and drink-related news stories and features, curates product pages, tests, and reviews equipment, and also develops recipes that she styles on food shoots. An enthusiastic, self-taught cook Jess adores eating out and sharing great food and drink with friends and family. She has completed the Level 1 Associate course at the Academy of Cheese and is continually building on her knowledge of beers, wines, and spirits.