44 million babies have been born on the NHS, and now you can find out which one you were
What's your number?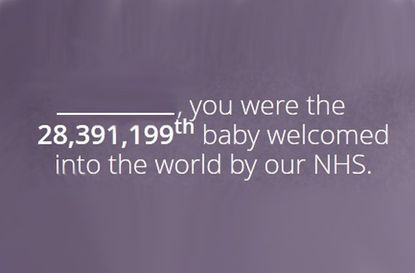 It may feel like a rather long time ago that you were born, and seeing as none of us remember it (thank goodness) you may not really have given it any thought before.
But we've just been introduced to something which may make you think about that day with a little more significance than before...
The Labour Party has created a clever little tool which tells you, out of the 44 million babies who've been born on the NHS so far, which number you were (in exchange for your email address, of course).
All you need enter is your date of birth, first name, email address and postcode and it will tell you (to the closest estimate) where you fall in that huge list of NHS babies.
Intriguing isn't it?
Kate Middleton, for example, born at the Royal Berkshire Hospital on 9 January 1982, was approximately the 23,368,551st baby to be born on the NHS.
The tool also tells you a rather heartwarming story about the amazing changes that have been made in medicine since your birth, and how many babies have been born on the NHS in the time it's taken you to read the results.
Another title: Kate Middleton, the 23,368,551st baby to be born on the NHS
To find out your number, all you need to do is visit the Labour website (opens in new tab).
You can find out the numbers of your friends, family and kids too. Be sure to let us know on Facebook (opens in new tab) what number you were!
And don't worry, there's the option to unsubscribe from any mail that Labour send to you afterwards.
Where to next?
Would you name your baby after a Frozen character? These parents did!
The FAKE positive pregnancy tests being sold on eBay
Gemma Chandler is a lifestyle writer specialising in kids' educational media across a range of topics including nature, history, science and geography across digital, print, social media and video channels. She joined Creature & Co. at 2015, shortly becoming Digital Editor of National Geographic Kids magazine.