Best firework displays 2019 in your local area
Remember, remember the 5th of November - put on your mittens and woolly hats and use our guide to find the best firework displays near you for Bonfire Night 2018!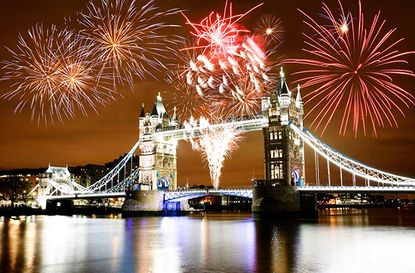 It's that time of the year again, when we all get wrapped up in our winter woollies to experience the magic of fireworks, and the excitement of a giant bonfire.
To make sure you and your little ones have a truly special Bonfire Night, we've rounded up the top UK firework displays that 2019 has to offer - don't forget your toffee apples (opens in new tab)!
Whether you're watching the night sky in the big city or looking for a cosy, local event, there's plenty of choice all over the country for you and your family.
In the north of England you can get your kicks with over 5,000 fireworks in one display, a 'juggling inferno' and plenty of live music to keep your feet tapping. Down south you'll love the choice of pyrotechnics or fire breathers and in the Midlands there's a wealth of bonfire buffets and tasty treats! Families in Scotland are spoilt with some of the biggest firework displays in the country and if you're lucky enough to live in Wales you could be boarding the publicly adored railway fireworks train that sells out every year.
Check out our guides for all the need to know info across the UK, from timings to places to ticket prices, we've got you covered this 5th November! Remember to check if the Bonfire Night event you're attending allows sparklers, parking and tickets on the door as many require you to get your tickets in advance and have restrictions in place for health and safety.
Now, go grab yourselves something warm to wrap up in, a mug of hot chocolate and get ready for an evening of sweet treats, sparkly skies and an amazingly atmospheric introduction to Autumn! Happy Bonfire Night!
Find the best fireworks in your local area here
Swipe to scroll horizontally
Swipe to scroll horizontally
Swipe to scroll horizontally
What are your family Bonfire Night traditions? Let us know in the comments below...
An internationally published digital journalist and editor who specialises in SEO strategy and content production, Rachael has worked as a writer and editor for both news and lifestyle websites in the UK and abroad. Rachael's published work covers a broad spectrum of topics and she has written about everything from the future of sustainable travel, to the impact of the coronavirus pandemic on the world we live in, to the psychology of colour.