The most heartwarming reactions to people finding out they're going to be grandparents
Get the tissues!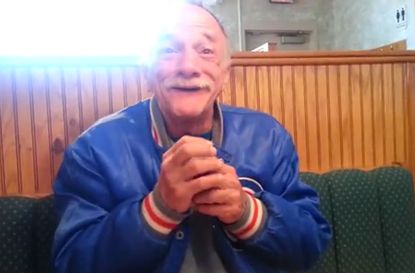 Most people think there's no better feeling in the world than finding out you're about to become a parent. Those people have never had grandchildren.
There is no news more exciting than finding out your little ones are expecting offspring of their own. And that might be because you know it means you're about to get all of the benefits of having a new baby in the family, but without a lot of the commitment.
You can be the one to feed them Haribo after dinner without worrying that they'll be bouncing off the walls all night. You can be the one to tell them jokes that should be saved another couple of years.
Then of course there's spoiling them rotten with presents, chocolate and staying up late watching films without feeling guilty. Plus you never need to tell them off because they only behave perfectly when you're around.
These grandparents-to-be know exactly what a treat they are in for, and are finding it a little difficult to control their excitement;
1. The ones who can't quite hear
http://www.youtube.com/watch?v=xjuwkGXXy4Q
Image:YouTube/AlexaGoolsby
Inspired by a viral game which requires participants to decipher messages while being played loud music, these new parents decided to relay the news via lip-reading.
Except there's a hitch. Grandma guesses straight away (a woman's intuition and all that). It takes grandpa a little bit longer...
But it's worth the wait. His reaction is priceless.
2. The one who is lost for words
http://www.youtube.com/watch?v=q2sM7tzILeE
Image:YouTube/Jessica Vigansky
Jessica Vigansky posted this video to YouTube of her father finding out he was about to become a grandparent for the first time.
When the video first surfaced in 2014, Jessica explained that her mother had died and as an only child, her dad was desperate for some good news for the family.
We think his excited squeals confirm it was exactly the news he was hoping for.
3. The one who doesn't know what to do with her arms
http://www.youtube.com/watch?v=36jfNFC39v4
Image:YouTube/LauraDell
Normally grandparents have nine months or so to prepare for a new addition to the family, but grandma Sharon Bloomingdale had less than nine seconds.
The new parents, Laura and her husband Josh Dell, 34, are not biologically able to have children and had been trying for years to start a family of their own.
So instead of presenting Sharon with a pregnancy test, they are able to bring the baby! Sharon just completely loses her cool. In fact daughter Laura has to give her a time out; 'Sit down on the couch mom so you don't pass out'.
4. The one who plays it cool
http://www.youtube.com/watch?v=45y1n8TnCug
Image:YouTube/JFeld
These new parents decided to use a visual metaphor for their new sprog - giving the grandparents-to-be an apple seed to unwrap as their baby is currently a similar size.
Dad plays it so cool. Although we're sure we see a smile in there...
5. The one who is completely hysterical
http://www.youtube.com/watch?v=56ddX-fmEtY
Image:YouTube/CaseyBellamy
We're not sure what sort of pranks this grandma has had played on her in the past, but she is really not too sure about opening the box.
Inside daughter Casey Bellamy has put a positive pregnancy test, but mum is certain it's a new mug... or a cockroach? But we're pretty sure she was made up with the actual gift. Cue the kitchen erupting into hysterical shrieking. Even the dogs decide to join in.
Trusted, informative, and empathetic – GoodTo is the ultimate online destination for mums. Established in 2007, our 15-year-strong archive of content includes more than 18,000 articles, 1,500 how-to videos, and 7,000 recipes.