BBC Radio 1 host Greg James reveals he is engaged
The radio shared the happy news on his Instagram...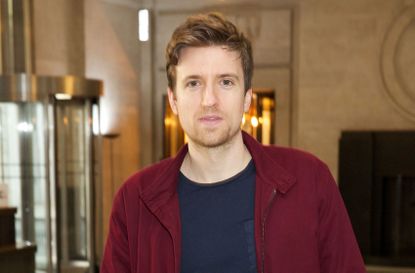 Popular BBC Radio 1 host Greg James has revealed that he is getting married.
Taking to Instagram to share the happy news, Greg revealed that it was actually his girlfriend Bella who popped the question - asking him to marry her in February.
Posting a picture of himself giving Bella a sweet kiss, Greg James (opens in new tab) wrote: 'Oh while we're doing announcements, here's something else...I'm having the time of my life and enjoying my work more than ever.'
He added: 'I feel really content and it's nice to have my shit together before I undertake a huge new work challenge. One of the main reasons for this happiness is because I met this person.'
Introducing his now fiancée, Greg explained: 'This is Bella and in February she asked me to marry her. I said yes immediately because she is the smartest, funniest and most beautiful person I've ever met. The only problem is she loves staying up into the early hours drinking as much as I do and this is not conducive with 5am alarms.'
Finishing the post he said: 'That said, it's been quite a year.'
Greg's engagement announcement comes after it was confirmed that he would be taking over Nick Grimshaw's breakfast slot on Radio 1.
With over 800,000 followers on Instagram the radio host has been flooded with kind messages congratulating him on his new job and his engagement.
One person wrote: 'Congrats to you both, lovely couple, bring out the best in each other, and a big up for asking him to marry you, my wife did same, and good luck with new show in September Greg 😉👍😎😜'.
Another said: 'So happy for youuuu ❤❤❤'.
Other devoted fans couldn't help but reveal that while they were happy for Greg, they were also heartbroken that he was officially 'off the dating market'.
One person wrote: 'Obviously I am super happy then but my heart breaks.'
Another joked: 'Can you setup a support hotline for all us bereaved peeps who are now devastated you're taken. Like they did when Take That split. Congrats to you both xxx'.