Gregg Wallace to start fertility treatment with wife as the couple are 'desperate' for a baby
The couple married in 2016 and wanted children from the offset.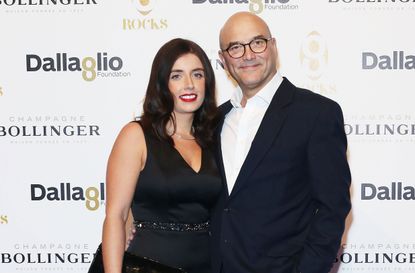 Masterchef presenter Gregg Wallace has revealed that he and his wife Anne-Marie Sterpini are looking into fertility treatment so that they can start a family.
Gregg Wallace already has children from a previous marriage but this will be his wife's first child if they successfully conceive.
Gregg was married three times before he met Anne-Marie, known as Anna. His first marriage was to Christine in 1991, but the union lasted just six weeks.
He then married Denise in 1999, with whom he shares two children, 24-year-old Tom and 21-year-old Libby.
He tied the knot a third time, with Heidi Brown in 2011 but split a year later.
The Masterchef presenter has revealed he finally feels like he has found his 'winning ticket' in wife Anna, and is desperate to have a baby with her.
Speaking to The Sunday Mirror he revealed: 'We are going to have this holiday in August. And, medically, we are going to step it up and look at fertility treatment.'
He continued: 'I would love to be a dad again. We are desperate for a baby and we have been consulting with the doctor. I know Anna can't wait to be a mum and she will be the most amazing mother.'
Gregg and Anna married in 2016 at Hever Castle in Kent, and the couple agreed for the event to be photographed by Hello! magazine.
Guests included his co-presenter John Torode who had the special role of best man. Other big foodie names with a Masterchef connection on the guest list included chefs Marcus Wareing and Monica Galetti.
Gregg and Anna met via Twitter in 2013 when she asked the Masterchef presenter how to prepare a duck.
In interviews since the couple's relationship went public, Gregg has said that she was what he was always searching for.
Responding to criticism at the time that he was marrying for the fourth time Greg stressed that the couple hadn't jumped into the decision spontaneously.
He explained: 'I'm very conscious of people thinking I just do this willy-nilly. But we haven't rushed into this - we've been together for three years and I truly have never met anyone like Anna.'
During the wedding interview with Hello! it was clear children were on the agenda for Anna and Gregg.
In the interview Gregg said: 'Anna was clear from the start of our relationship that she wants children and it won't be long at all before that happens.'
Gregg had joked that he hoped Anna would be pregnant by the time they returned from their honeymoon but it has clearly taken a little longer than they expected.
We hope to hear of some happy baby news from the couple soon...
Jessica currently works as a Senior Food Writer at Future. She writes food and drink-related news stories and features, curates product pages, tests, and reviews equipment, and also develops recipes that she styles on food shoots. An enthusiastic, self-taught cook Jess adores eating out and sharing great food and drink with friends and family. She has completed the Level 1 Associate course at the Academy of Cheese and is continually building on her knowledge of beers, wines, and spirits.