Helen Skelton recalls 'terrifying' birth experience: 'Scariest thing I have ever done'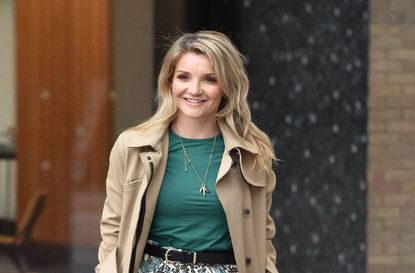 Goodto Newsletter
Parenting advice, hot topics, best buys and family finance tips delivered straight to your inbox.
Thank you for signing up to GoodTo. You will receive a verification email shortly.
There was a problem. Please refresh the page and try again.
The Countryfile star star has opened up about her birth experience, revealing that there was no one around to help her when she went into labour with her second child.
36-year-old Helen Skelton was at home in France with her first child when she went into labour and her husband, rugby player Richie Myler, was unable to get to her in time. She describes it as 'the scariest thing I have ever done'.
'I was in France and my husband was in England, and no one made it to me in time,' she revealed to the Daily Mirror.
'So I gave birth with just my three-year-old next to me, repeatedly hitting me on the head with a plastic sword, because he thought we were playing dinosaurs.
Read more: Mum-of-two Helen Skelton opens up about being 'grabbed' live on air while pregnant
'Terrifying. But I didn't have a choice, I just had to get on with it.'
Luckily, there were no complications and Helen's second child, Louis, was born a healthy and happy baby boy.
'My biggest successes are my kids, Ernie, five, and Louis, two,' Helen said.
'They're just the best things ever. They are crazy, loud and wild.'
Helen also revealed in the interview that her parenting techniques aren't always conventional.
Read more: Gemma Atkinson defends having a c-section: It's not 'the easy option'
'My friends who have really well-behaved kids call my house 'The house with no rules',' she explained.
'It's because I was brought up that way. I'd trap wild cats in the house and try to tame them. I was always up trees, covered in mud. It's how I like my kids to be.
'I'm not a strict mum. I should be – they don't listen to a word I say! I'm a tomboy mum. In my eyes, if my kids are dirty and tired, then they're having a good time.
'But if I tell them to go on the naughty step, they laugh in my face.'
Helen married English professional rugby league footballer Richie in December 2013 and they share two children together, Ernie and Louis.
Parenting advice, hot topics, best buys and family finance tips delivered straight to your inbox.
Lauren is a senior content editor covering everything from the latest royal news to fashion, beauty and health content. Lauren graduated from her masters in magazine journalism in 2011, quickly making the transition over to digital and has never looked back. From getting out a breaking news story to penning an in-depth feature, she loves the variety of writing for digital platforms.