Cot bed safety: The hidden dangers on your baby's cot bed
The hidden dangers on your baby's cot bed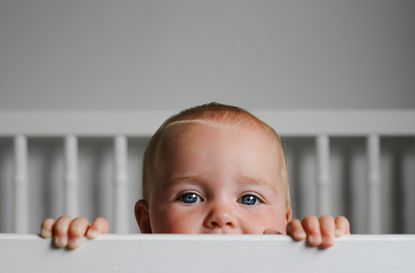 (Image credit: Getty Images)
If you're looking to buy a cot bed for your little one, there are a few rules and regulations to follow before buying it including some hidden dangers which its best you are aware of.
Cot bed safety is always a parents' biggest concern, especially because of the concerns over dangers such as SIDS (opens in new tab). We'll spend hours trawling websites for the five-star kids products and pour over reviews and recommendations before parting with our cash, in the knowledge that we're making the best possible choices for our child. Unfortunately, however, sometimes companies can get it wrong.
When it comes to buying a cot bed (opens in new tab) for your little one, it really is best to make sure its as safe and as practical as possible. It's all about keeping your baby safe and comfortable so they have the best sleep possible.
Here are three crucial cot bed checks you really must do before buying to make sure you've got the best cot bed safety possible.
Cot bed safety checks
1. Width between bars
The space between the bars should be no more than 6.5cm to prevent your baby from getting stuck. This is particularly important to remember when buying a second hand cot bed, which might not adhere to the latest safety standards.
2. Height adjustable base
This allows you to alter the height as your baby grows, keeping him or her secure from a little baby to when he or she can pull themselves up to stand. The distance between the top of the mattress and the top of the cot sides should be at least 50cm, to prevent your baby from climbing out when they become more mobile. You need to make sure that your baby's arms or legs cannot get caught down the side of the cot or between bars.
Psst! We've rounded up some of the best cots currently on sale including Mothercare and John Lewis' most popular cot beds.
3. Drop sides
It is worth considering whether you want fixed or drop-sides. US safety regulations on cot beds were changed in June 2011, banning drop-sides after a series of babies were killed after being trapped beneath them. British nursery furniture experts state that the differences in UK cot bed design mean that it would not be possible for incidents like those in the US to happen on a British-made bed - but if you're still worried, fixed-side cot beds are are available instead.
4. Circulation
Some experts recommend cots with four sides that have bars to allow air to circulate freely around your baby when they sleep.
5. British Safety Standards Code
When buying a cot, you need to look out for the British safety standards code: BSEN716 which should be on all cots as well as the BSI number: BS 1877-10:1997 for the mattress for your cot.
Not only should you look at your cot when thinking about cot bed safety, but you should make sure the mattress follows British standards too. The firmer the mattress, the better. There's no need for duvet or toys etc. in your little ones bed to start with either. Keep it simple and safe. Our guide to baby bed safety explains more.
Concerns surrounding kids' cot beds have come to light after a particular item was recalled from sale when it nearly caused the deaths of two young children. The Baumhaus Nutkin cot bed was recalled from sale in 2013 after two children were seriously injured. The Nutkin cot bed, by Baumhaus, was pulled from stores after the bed brought two young children 'very close to serious harm or death'.
The concerns were the potential 'trap-hazards', i.e. places where children could trap their head and neck in the gaps at the top, and their fingers in the drill holes. It was also concluded that children's clothes could snag on the sides of the bed, also potentially trapping them.
READ MORE: Best baby sleep aids to help babies sleep through the night (opens in new tab)
Although the original design was recalled, there is a new, modified version still available for around £500.
More recently the Baumhaus boss, who is facing a £20,000 fine or possibly even a prison sentence, admitted that there may still be some potentially dangerous cot beds in use. Speaking to consumer watchdog, Which?, he said that while 93 per cent of the cot beds have now been recalled, a small number could still be in use.
If you still have one of the recalled Baumhaus Nutkin cot beds, get in touch and they'll organise a collection for you.
Alternatively, you could opt for another type of safe baby sleep bed. Moses baskets that meet safety guidelines (opens in new tab) are certainly a good option for example.
Which cot mattress is the safest?
While there are many different types of baby cot mattresses to choose from, The Lullaby Trust (opens in new tab) suggests that babies sleep on their own one in the same room as their parents or caregivers, at least for the first six months of their life. Mattresses need to be clean and dry, as well as free of cracks and tears to the fabric.
It's also been advised...
Baby mattresses should be firm, with no sagging around the edges and fit the cot without any gaps.
As mattresses come in two sizes, standard and continental, and so they should comparatively fit the size of cot that you have at home.
Baby cot mattresses need to be kept as clean as possible, so having one that has a wipe-clean covering or removable top that you can wash at a high-temperature is optimal.
While soft mattresses might sound like a cushion for your baby, they need to have one that's firm rather than soft. As such, it should be no thinner than 8cm.
All baby mattresses should carry the BSI number BS 1877-10:1997.
Do your research - test all the different types like foam, spring-interior and coir cot mattresses. Test out as many as possible before picking the one that works for you.
Are old cots safe?
Older and second hand cots are a great option if you're looking to cut down costs as they can often come from family or second hand shops. Largely, they are safe but it needs to conform to current safety standards. This means that if you're going to buy an old or second hand cot that has had a few years use, there are some things you need to look out for...
If it's an old painted cot, it might need to be stripped down and repainted. Older cots could have been painted with lead paint, which is toxic and dangerous to young babies.
Does it have a drop-side mechanism? Best to give it a miss as the mechanism could be unsafe.
Any decorative stickers or items on the inside of the cot need to be immediately removed as they could be a choking hazard, especially to newborns.
Naturally, check for any jagged ends or breakages that could create a sharp edge, as these could hurt your baby.
Make sure that the bars on the cot are vertical, rather than horizontal, as babies could climb these and escape from their cot.
Drop side cribs: Are they safe and legal?
The USA made drop side cots illegal in 2011, due to a number of incidents which tragically resulted in infant deaths in some cases. This was largely down to non-functioning, cheap, plastic safety mechanisms that went on to break and create a dangerous V-shape gap between the mattress and the drop-side rail. However in the UK, detailed and rigorous testing is undertaken on drop-side cots to ensure their safety to young babies.
In 2011 and 2013, the British and European safety standard of cot EN716 was re-visited and additional safety requirements were added to make sure that drop side cots would stay safe. For example, the mechanism on the cot now has to auto-lock on both the top or bottom positions with another two actions required to unlock and lower or raise the rail.
So while EN716 drop-side cots might be banned in the UK, they are in fact safe and legal in the UK and due to the many years of testing and increased requirements, parents continue to buy them everyday.
Gemma Chandler is a lifestyle writer specialising in kids' educational media across a range of topics including nature, history, science and geography across digital, print, social media and video channels. She joined Creature & Co. at 2015, shortly becoming Digital Editor of National Geographic Kids magazine.