18 high street stores we'd love to see reopen their doors
What we wouldn't give for one more cup of Woolworths pick and mix.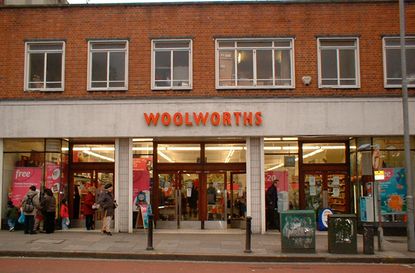 Fact is, the British high street just ain't what it used to be. What was once a busy, exciting hub of shops just bursting at the seams with brilliant stuff has become a rather desolate place, with many of our most loved stores disappearing from the ever-shrinking landscape.
In the wake of all of these sad goodbyes, we thought it was only appropriate to honour some old favourites by adding them to our collection of stores we'd LOVE to see reopen their doors.
From bookshops to supermarkets and of course, dear old Woolies (RIP), how many of these do you remember - and which ones do YOU want back?
Etam
Image: Birmingham Mail (opens in new tab)
When Etam closed its doors in 2005, we assumed it was gone forever. However, Etam has actually been online this whole time, and even made an amazing comeback at this year's Paris Fashion Week!
Known for their lingerie and swimwear ranges in Europe, they came to the UK with a massive selection of styles, at purse-friendly prices. Their tween-girl range, Tammy Girl, was possibly even more successful than Etam itself - but post-recession, Tammy Girl is nowhere to be seen, but her mum Etam is back and is better than ever.
Borders
Image: Business Insurance (opens in new tab)
Borders was an American import with the sort of overflowing bookshelves a word nerd could only dream of, and usually they had a Paperchase and a Starbucks tucked inside too. We loved whiling away an afternoon flicking through the paperbacks, but clearly didn't buy enough of them, as they struggled in the advent of super-cheap-and-speedy online stores like Amazon and closed in 2009.
Chelsea Girl
Image: Vogue (opens in new tab)
If you were a teenager anytime before the mid 1980s, you probably bought one of your favourite dresses at Chelsea Girl. The store opened in 1965 and had us all captured with their ultra-modern and stylish (at the time) designs. Times moved on and the brand eventually became what we now know as River Island, a store which does still encompass a Chelsea Girl capsule collection. However, the changes gave us much less Chelsea-choice, and we'd love to see a whole shop come back sometime.
Focus DIY
Image: The Sun (opens in new tab)
Was it really 2011 that we last saw this iconic blue and yellow sign? Whether it was wallpapering, gardening, choosing a whole new kitchen or just picking up some tools, Focus made us feel like we really could do it ourselves. Nowadays, we have to make the tricky choice between B&Q and Homebase, but we liked having the extra option (and slightly less busy aisles to battle through on Bank Holiday Sundays!).
Gadget Shop
Image: The Sunday Times (opens in new tab)
The home of bizarre yet brilliant stocking fillers and other tat you didn't need but 100% definitely wanted to own, the Gadget Shop was a staple on our Saturday afternoon visits into town. Now, you can only find electronic fluffy pigs and self-stirring mugs online - what if we need them IMMEDIATELY, Gadget Shop? How's a girl supposed to stir her tea otherwise? Honestly.
Julian Graves
Image: Natural Products Online (opens in new tab)
Let's be truthful for a minute - most of the food we actually bought in Julian Graves wasn't really that healthy. Sugar-saturated dried fruit, oversalted nuts and crackers, yoghurt coated EVERYTHING - their snack range was just weight-gain waiting to happen, but they were tasty, and we couldn't stop scoffing them, extra lbs be damned. The closest equivalent we have now is Holland and Barratt, but most of there stuff IS actually healthy, and therefore nowhere near as delicious. Bring back JG, we say!
C&A
Image: Wikipedia (opens in new tab)
Yes you CAN still get C&A clothes in various stores in Europe, but what about the UK, eh? There were so many bargains to be had, and brands to be explored - although we had a particular love for their inexplicably large range of skiiwear, which our mums used to just let us wear as really warm winter coats. Never been so snug in our lives - and now that they don't sell here anymore, we probably never will be again.
Kookai
Image: Metro/David Willis (opens in new tab)
Kookai was another brand that fell prey to the late-noughties recession, having gone into administration in 2006, but before that it was the go-to destination for strappy party dresses and teeny tiny sparkly handbags. There are occasionally Kookai concessions in House of Fraser stores, if you're still trying to track them down, but it's just not the same as their bling-laden hey-day.
MK One
Image: This is Money/Daniel Jones (opens in new tab)
When our budgets didn't quite stretch to the dizzying heights of Kookai, MK One was a much more afforable alternative - which is why we were so thankful it had everything from staple black trousers to going-out dresses in every colour. The sad fate of the store ended in administration and a whole bunch of legal messes, but we'll remember it fondly for the bargain house it truly was.
Our Price
Image: Urban75
Our Price (opens in new tab) was a subsidary of the ill-fated Virgin (see below), and seller of more VHS and cassette tapes than you should shake your Walkman-shaped stick at. Even if you don't remember buying anything in there, you'll definitely remember their 'Get Down To Our Price' slogan, and Billy, the animated carrier bag, right? Yeah, we thought so...
Littlewoods
Image: Flickr (opens in new tab)
Okay, so they still have big glossy online campaigns fronted by the likes of even glossier-haired Myleene Klass and Coleen Rooney, but we really miss the experience of going to an actual Littlewoods store. 119 of their outlets closed in 2005, around 40 of which were sold to Primark (opens in new tab). A worthy replacement? We'll leave that for you to assess...
Bay Trading
Image: Birmingham Mail (opens in new tab)
Oh, reliable old Bay Trading. We brought so many dependable work outfits from you, and we thought you'd always be there. Then you closed your doors in 2008, and we realised how much we needed you. Yes, your materials could be a bit cheap, and your jewellery turned us a tiny bit green, but do you even know how much more expensive Next is? Come back, all is forgiven!
Past Times
Image: Retail-Week (opens in new tab)
History enthusiast or mega-fan of Tudor-style jewellery? Then between the years of 1987 and 2013, you could probably be found at Past Times, twirling a vintage parasol or imagining how good your family photos would look in that Victorian frame. We still hanker after those burgandy bags with the secret treasures inside - and when they shut, WHSmith did purchase the trading name, so perhaps there's still hope?
Rumbelows
Image: Citizen Game (opens in new tab)
TV and radio retailer extraordinaire Rumbelows had a good run, but it couldn't compete with the likes of enormous brands like Currys and Dixons (which, long after Rumbelows closed, actually started to struggle themselves). The name may have gone out of recognition, but we bet you still remember the adverts...
http://www.youtube.com/watch?v=aDXZIqOjP5c
All together now, 'Don't pay any more, Mrs Moore!'
Safeway
Image: Wikipedia (opens in new tab)
Now THIS was a supermarket - gone since 2005, but never forgotten, Safeway was one of those food stores we could wander around for an untold amount of time (mainly looking at the staff in their notably natty uniforms, and filling our trolleys with the exceptionally well-priced dinners). Many of their stores were rebranded as Morrisons, in case you were wondering.
Virgin Megastores
Image: Urban75 (opens in new tab)
Virgin Megastores did have a couple of glory years in their reincarnation of Zavvi, but with the advent of iTunes and Netflix, it was only a matter of time until people started turning to the internet for their electronic entertainment and alas, it was no more. Zavvi shut their doors in 2009, and it's been really hard to find a place to buy DVDs that cost less than £10 ever since.
Blockbuster
Blockbuster, how we mourn thee - because of the video rental store's closure in the early 2010s, our kids will never know the joy of running towards the new releases section, only to find all of them had already been rented out, or putting in a tape to find the person before you hadn't been kind and rewound. These were vital formative experiences that noughties kids have been totally deprived of - no wonder they find it hard to learn patience nowadays!
Woolworths
Image: Wikipedia (opens in new tab)
Of course we saved the best for last. Yes it was full of amazing toys, yes, the range of stationary was incredible, but above all, where else can you get regular pick and mix AND a counter of wrapped chocolates that was basically a build-your-own-Quality-Street station? ABSOLUTELY NOWHERE, that's where - which is why it's such a travesty that Woolies is gone. Rest in peace, old friend, we miss you every day.
Have we missed your favourite off the list? Leave us a comment and we'll add it to our round-up!
Trusted, informative, and empathetic – GoodTo is the ultimate online destination for mums. Established in 2007, our 15-year-strong archive of content includes more than 18,000 articles, 1,500 how-to videos, and 7,000 recipes.