'I want to do all that I can to normalize a real body' Hilaria Baldwin shares underwear snap one day after giving birth
The new mum shared the snap just 24 hours after welcoming son Leonardo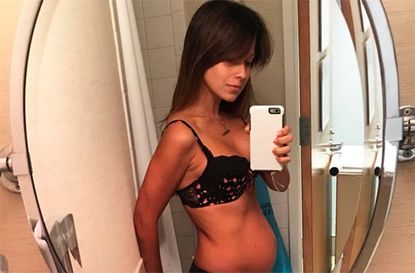 It's only been a day since Hilaria Baldwin, wife of actor Alec Baldwin, welcomed the couple's third child into the world.
But that didn't stop the new mum taking a snap, in her underwear, of her post-baby body and sharing it to her Instagram account.
The mum of three decided to bear all in the name of body confidence, and hopes that by sharing an image of what a post-baby figure looks like, she can promote 'healthy self esteem' and normalize a 'real body' in the face of so much body shaming.
Hilaria captioned the photo, taken in the bathroom of the hospital where she had given birth to son Leonardo just 24 hours before: 'I took this yesterday when Leonardo was about 24 hours old. I did the same thing right after Rafael was born.
'So from here on, I want to dedicate the majority of my 'It always makes me a bit nervous to do something like this, but I feel that in the age of such strong body shaming, I want to do all that I can to normalize a real body and promote healthy self esteem.'
The new mum, who also has Carmen, three, and 14-month-old Rafael with her 58-year-old husband, goes on to reference how passionate she feels about embarking on a healthy lifestyle of diet and exercise: 'Many of you know that I love to show the process of life's experiences on the body and I am a firm believer in how a good diet and the right balance of exercise make us happy, healthy, and strong.
'So from here on, I want to dedicate the majority of my #366daysoflivingclearly #hilarialcm daily posts to getting back in shape and I invite you to do it with me ❤️🙏🏼.'
In response to previous questions the 32 year old had over her birth, Hilaria then went on to answer some 'common questions for her 183k Instagram followers:
'Did I have a c section?: No, I pushed him out Where are all the pads for bleeding?: I took them out briefly to snap this pic as there is a limit to how much you need to see 😂. Where am I?: in the hospital room bathroom #glamour Oh, and no filter. Just brightened it up a bit.'
The star's honesty has been met with praise from her fans, with one commenting: 'I appreciate your honesty. So excited about your three beautiful, healthy children. God bless you and your loving family.👰👲👲' while another added: 'Thank you for being brave and so open!
'It helps to remember we are all human! You look beautiful, btw! And again, congratulations on your new bundle of joy!'
Parenting advice, hot topics, best buys and family finance tips delivered straight to your inbox.