Holly Willoughby shares her foolproof routine for getting children to sleep
But do her Instagram followers agree?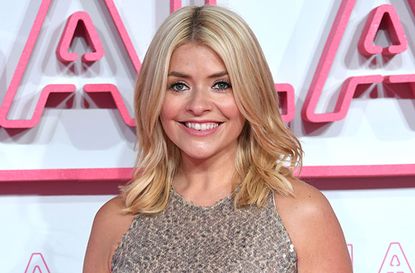 Holly Willoughby has taken to Instagram to share a slice of parenting advice taken from a book that seems to be helping her get a sleep routine with her kids locked down.
As a mum of three we're sure Holly knows what it's like to have her hands full, and establishing a sleep routine (opens in new tab) is so important when you have a house full of kids that could happily stay up and cause havoc all night!
The 35 year old has revealed her secrets to a peaceful evening by posting a page from her parenting book, 'Truly Happy Baby', which details the four things you should do before bed.
The graph shows how time should be split between 6.30 - 7pm in the evening, ideally getting your little one off to sleep by then.
According to Holly, 6.30pm is the perfect bath time and should last about ten minutes. Then at 6.40pm you should give your child a relaxing massage and dress them ready for bed, before reading them a ten minutes story at 6.45pm. By 6.55pm your child should be ready for some milk, to help them drop off to sleep at 7pm.
Holly shared the picture with the caption, '😴😴😴 The big bedtime routine from #TrulyHappyBaby'.
Floods of mums commented on the image with details of their children's bed time routines, offering advice and asking questions.
One mum and Instagram user said, 'I've always followed this routine my kids are 9 and 6 and still go to sleep between 7-7.30' whilst another agreed, 'We've followed this routine from 4 weeks old and at 7 weeks my girl started sleeping 12 hours and still does. Routine is so key isn't it! And mama needs her evenings for relaxing aka prosecco drinking 😂 xxx'
Although some parents seemed to think that the seamless transition from bath to bed was wistful thinking,as one follower pointed out, 'I think on paper this works @hollywilloughby and if you have a very good baby/child, but as someone has said earlier... who can do bath and dress (and massage?!) in 15 mins?!? Sometimes feeding my 3 month old takes 45 minutes! This is an *ideal* situation, but perhaps not realistic..!'
If you're struggling to get your baby off to sleep, there are some baby sleep tricks (opens in new tab) you can try that may just get your little one snoozing.
Some parents swear by 'the head rub' trick in which you gently stroke and massage the back of your baby's head until they begin to relax, once they soften you can stroke their cheeks until they relax on to your chest ready to sleep. Easy!
Another interesting tip on the internet, is using your whole hand to stroke the length or width of your baby's face in slow, long movements. It has been shown to send a baby to sleep in less than ten seconds!
What tricks do you use to put your baby to sleep? Tell us in the comments below...
Trusted, informative, and empathetic – GoodTo is the ultimate online destination for mums. Established in 2007, our 15-year-strong archive of content includes more than 18,000 articles, 1,500 how-to videos, and 7,000 recipes.