How to get your child to marry a royal baby
Mini royals are the most eligible infants in the world, and your little one could be the perfect girl/boy for the royal brood! Here are 12 inventive (slightly silly) ways to get your toddler to marry one of these prospective heirs to the throne. We can almost hear the wedding bells already...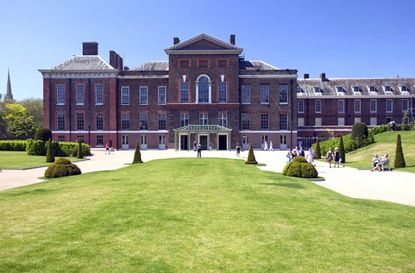 (Image credit: Rex features)
Mini royals are the most eligible infants in the world, and your little one could be the perfect girl/boy for the royal brood! Here are 12 inventive (slightly silly) ways to get your toddler to marry one of these prospective heirs to the throne. We can almost hear the wedding bells already...
We're so ridiculously besotted the royal babies, we have to admit that on occasion our mind has wandered to the possibility of getting the regal tots to meet our own.
Imagine popping to Waitrose and bumping in to Zara Tindall and daughter Mia, or spotting Kate, Prince George and Princess Charlotte on the school run and stopping them for a chat. The chances of them befriending your own brood could be seriously high, and before you know it you're Carole Middleton the second, proudly walking your son or daughter into Westminster Abbey to wed a real life Prince or Princess and take the first steps into the perfect fairytale life you always hoped they'd lead.
Convinced (or at least, fully committed to the daydream?) Here are 12 inventive ways in which you can get your precious little toddler to marry a royal baby - no, really!
Based on real life examples of where the royal babies spend their time, as well as some strategic choices for their future, these tips could get you closer to the Royal Family that you ever dreamed possible - it's only a matter of time before you and Pippa are BFFs, and Harry's popping round for a roast on a Sunday, surely.
Before you think we've gone completely doolally, we're not being strictly serious with these suggestions, but we do hope that our ideas will give you a bit of a giggle. And who knows - it could be George, third in line to the throne, betrothed to your little princess. Or your little prince becoming an actual prince by marrying a real-life princess! What mother or father wouldn't be thrilled at the thought of that?
So, have a flick through the gallery and put our royal match-making to the test... and let us know if you do, through some miracle, manage to pull it off (we want an invite to the wedding, please...)
Move to Kensington
The average house price in Kensington may be around £1.7 million, but don't let that put you off!
Kensington is in the much desired Royal Borough of Kensington and Chelsea, London, and is home to Kensington Palace, one of Kate and Wills' rather swish pads (pictured). Spend enough time there and you'll be sure to bump into Kate pushing Georgey boy and co. around sometime, and with neighbours like Madonna and Nigella Lawson, it's only a matter of time before you get an introduction.
You'll also be pleased to know that local shopping spot Harrods is only a quick drive away - for when you need to run in for a pint of milk.
Not quite got the budget for the posh end of London? You could also try Norfolk, where the couple spend a lot of time at their other residence, Anmer Hall.
Shop at Waitrose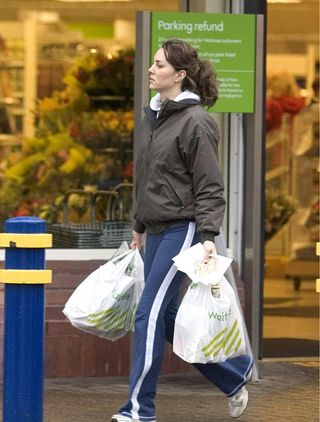 Now this one you really can do. We love this photo of Kate in her comfies doing the weekly shop at Waitrose.
And who says you have to do the whole shop in there? Simply nipping in for a box of eggs and bumping into Kate and the kids in the trolley seat could mark the start of a beautiful relationship between the kiddies.
Send them to a posh school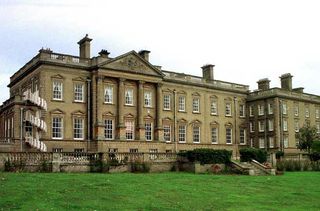 Extremely posh Riddlesworth Hall should be the school of choice for your daughter - that's where Princess Diana went to school and she married a prince! Eton and Harrow are the obvious choices for a prospective prince.
The fees range from £20,000 to around £60,000 a year, but that won't matter when you see your little prince or princess down the aisle at Westminster Abbey.
Don't forget to prep them at a Montessori nursery, like the Westacre School Prince George attended in Norfolk.
Get a bilby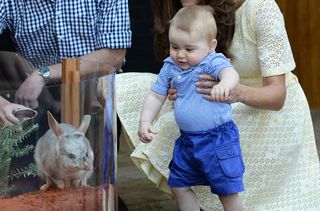 George really, really likes them - as evidenced by the picture of the little prince meeting and greeting the creature on a royal tour of Australia in April 2014.
As Sydney's Taronga Zoo did, it couldn't hurt to name it George, for effect.
Teach them to ride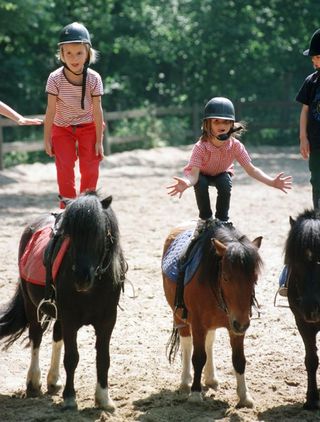 The royals are very into their riding. Dressage, cross-country, show jumping... they'll need to know it all. Princes William and Harry love their Polo, and Kate can often be seen supporting her husband from the sidelines, with the little ones try to toddle onto the field. So make sure you familiarise them with the rules of the game.
Oh, plus you'll need to buy a horse. And muck it out daily. Sigh.
Any acrobatics that could help grab their attention, like the ones in this snap, are certainly worth a try.
Get yourself an Order of the British Empire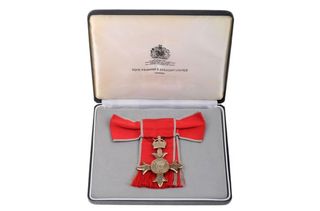 One of these shouldn't be too hard to get your hands on. 'Valuable service' is the only criteria you need to fulfil in order to get one. It comes with a visit to Buckingham Palace, and will be presented to you personally by the Queen, or another member of the royal family. The perfect opportunity to introduce your little cutie to a royal child.
Note to self: Don't wear it on the wrong side, like David Beckham did to the royal wedding. Ettiquette is everything when you're to become a royal!
Send them to a top university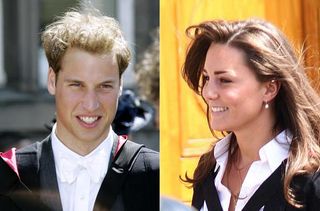 Preferably St Andrews, which is where the Duke and Duchess of Cambridge met all those years ago (pictured here on their graduation days).
St Andrews was seen as a suitable choice for William as it was a reasonably small, quiet university in Scotland, good for security and away from the prying eyes of the paparazzi. Perhaps when the time comes the royal parents will think it suitable for their own little ones?
Other alternatives are available of course. Consider Cambridge, Oxford, Imperial College London, and Durham, if you want to shop around.
Buy a dog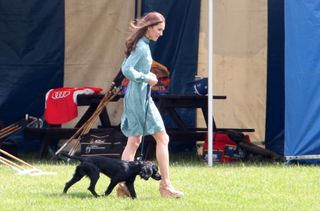 It'll need to be a Pedigree, naturally. And a posh breed. Kate's dog Lupo, pictured here, is a Cocker Spaniel. But we all know that a Corgi is sure to tug on the heart strings of certain other family members...
Make the Royal Parks your local hang-outs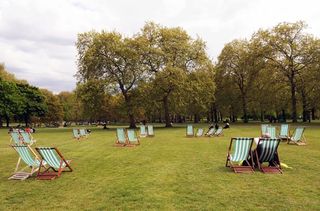 You've got 8 to choose from, but of course we recommend that you stick to those that are closest to the royals.
Kensington Gardens are probably your best bet - not only is it practically Kate and Wills' back yard, but it's in one of the nicest areas of London. If you don't run into the Duchess herself, surely Pippa or Harry will be floating around somewhere? Aim for a sunny day, it's sure to tempt Kate out for a royal picnic!
Oh, and remember you've got a dog now, so don't forget your poo bags.
Also try:
Hyde Park St James's Park Green Park (pictured)
Drive a fancy car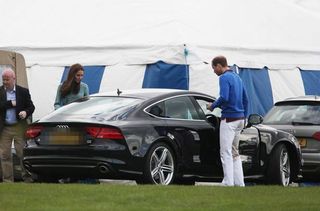 Unsurprisingly, the royals are keen on a posh motor. Wills' car, pictured here, is an Audi, but we suspect the garages at the family homes are full of vehicles we could only dream of owning.
The Queen's state cars include three Rolls Royce's, three Daimlers and two Bentleys, so if you happen to wheeling around in something equally impressive, we imagine you'd catch a regal eye or two...
Parenting advice, hot topics, best buys and family finance tips delivered straight to your inbox.
Trusted, informative, and empathetic – GoodTo is the ultimate online destination for mums. Established in 2007, our 15-year-strong archive of content includes more than 18,000 articles, 1,500 how-to videos, and 7,000 recipes.