Induced lactation: How it's possible for a mother to breastfeed a baby she didn't carry
We reveal everything you need to know, from discussing what a woman can do to prepare for induced lactation to how the process works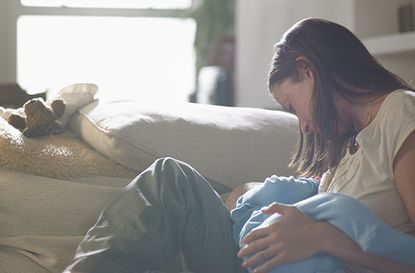 Induced lactation – what is it and how does it work?
Induced lactation is something that's seeing a rise in popularity among new mothers. The subject was covered in the 2012 film Born Twice in an emotional scene that saw Penelope Cruz's character attempt to breastfeed a baby she didn't give birth to.
We take a closer look at induced lactation, covering everything from what it is to how it works.
What is induced lactation?
Induced lactation is where women encourage their bodies to produce milk - even when they haven't carried the child themselves.
Deemed to be a great way of helping a new mum bond with a little one, it gives ladies who have adopted or welcomed a baby via a surrogate the chance to breastfeed.
How does induced lactation work?
There are a number of ways that a women can stimulate breast production.
According to Sioned Hilton, Medela UK's Education Manager and in-house Lactation Consultant, plenty of skin-to-skin contact is vital because it not only supports breast milk production but helps with bonding by boosting oxytocin, otherwise known as the 'love' or 'cuddle' hormone.
'Mums can start to express using a hospital grade double breast pump featuring initiate on software to stimulate the breast glandular tissue to secrete human milk,' Sioned exaplined, before describing how a substance may be prescribed to aid the process.
'Often a mum may need additional pharmaceutical hormonal support to mimic a pregnancy, stopping before she starts to pump. Mums may be prescribed the use of galactogogues in combination with expressing, to stimulate and initiate milk production, ready for when baby arrives.'
Although an individual can start planning for induced lactation with the support of a breastfeeding specialist or doctor months before the little one enters the world, a mum usually produces a few drops of milk within seven days.
For Sioned, maintaining a positive outlook and having a motivational support network is also key.
Does induced lactation work for everyone?
'With preparation and dedication, breastfeeding without pregnancy can be possible - although it may prove to be quite a challenge,' Liz Halliday, Deputy Head Of Midwifery at Private Midwifes tells us.
'One thing that can make a difference, is whether the mother has previously given birth. If so, her body will be familiar with the process of producing milk - this will make reproducing milk for a baby that has been delivered through a surrogate a lot easier, in comparison to a woman who hasn't previously delivered her own children.'
Liz goes on to explain that a mother wishing to try induced lactation will increase her chances of success by sticking to a 'pumping schedule'.
'Normally, the natural production of breast milk is triggered by a complex interaction between three hormones - oestrogen, progesterone and human placental lactogen - during the final months of pregnancy. At the times of delivery, levels of oestrogen and progesterone fall, which allow the hormone prolactin to increase and initiate milk production,' she continues.
'Additionally, creating a pumping schedule will encourage the production and release of prolactin - to maintain this, breastfeeding should be upheld for 15-20 minutes daily every day until the baby arrives. However, it is always recommended that women to consult their doctor and a lactation consultant before preparing for induced lactation.'
Is there anyone who shouldn't attempt induced lactation?
Sioned is a firm believer that any women with a desire to give induced lactation a go should speak to a medical professional about the possibility.
'It is important to discuss the options, make an individualised plan, ensuring that mum receives specialist support to achieve her goal of breastfeeding - for both mum and baby,' she concludes.
A real-life induced lactation story
Same sex couple Claire and Steph favoured induced lactation as a means of feeding their baby daughter LJ.
The duo from Australia spoke about their decision with Eamonn Holmes and Ruth Langsford on This Morning in early 2017.
In order to make it work, Steph started pumping and consumed fenugreek - plus breastfeeding tea and biscuits - to encourage the production of milk. Towards the end of Claire's pregnancy, Steph began taking a low dose of anti-sickness drug domperidone to boost her supply.
'It was quite early on that I decided that it was something I wanted to do. We were lucky enough to have a midwife who is also a lactation consultant so she started to show us different ways of hand expressing and things like that,' she told the show hosts.
'The very first time I hand expressed, I was able to get a few drops of milk which was incredible. I don't know why my body was able to do that but I guess I'm just lucky.'
Claire and Steph on This Morning Claire wonders if the close bond between the duo helped Steph in her quest to produce breast milk.
'I think by being in a same-sex relationship, she understands things that are happening in my body and potentially that connection is something that made it a bit easier for her,' she pondered.
Steph was able to start helping with the feeds twice a day, a week after LJ entered the world.
'The main reason I decided to do it was to have that time with her, to be able to provide for her in a way that a mother can. It's been a beautiful time for us and I'm really grateful I've been able to do it,' summarised Steph.