Obstetric cholestasis in pregnancy: All you need to know about ICP
In the UK around 5,500 women a year will develop ICP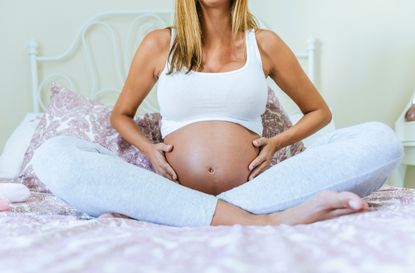 (Image credit: Rex/Shutterstock)
Here's everything you need to know about obstetric cholestasis in pregnancy, commonly referred to as intrahepatic cholestasis or ICP and how to spot the symptoms.
Itching in pregnancy (opens in new tab) might not sound like a symptom that's an immediate cause for concern. However, in the UK every year, around 5,500 women will develop a condition called Obstetric cholestasis in pregnancy, commonly referred to as intrahepatic cholestasis or ICP. This causes, amongst other side effects, moderate to extreme itching in pregnant women, and whilst it's not dangerous for the mother, it can have serious consequences for their unborn child.
Here, Jenny Hastings from the charity ICP Support (opens in new tab) tells us how to identify the signs of intrahepatic cholestasis, and when it's time to seek help.
What causes cholestasis in pregnancy?
ICP is the most common liver condition specific to pregnancy. It occurs when bile that is made in the liver (intrahepatic), stored in the gallbladder and which helps us to digest the food we eat, slows down (cholestasis).
The NHS states that ICP seems to run in families, but it can occur even if there is no family history. It is more common in women of South American, Indian and Pakistani origin, but not all women inherit genetic changes that will make them more likely to develop ICP.
In ICP these changes are thought to be passed down through the male or female line. This means that if you have had ICP and you have girls, they have around a 14% chance of developing ICP if they have children. If you have boys, they may pass the genetic changes down through their children but they themselves will not be affected by them because they will not become pregnant. This means that hormones also play a role in why ICP develops but researchers are still working to fully understand how.
What are the symptoms of ICP, other than itching in pregnancy?
Although itching, which may be mild or severe and is typically on hands and feet (although it can be anywhere on the body) is the main symptom of ICP, other things to look out for are dark urine and pale stools.
More recently it has been noticed that some women with ICP also complain of a dull ache or pain just underneath their ribcage on the right-hand side, sometimes extending round to their back. It is not yet understood why this pain happens as the liver doesn't have nerve endings, but it is so commonly reported that it would be reasonable to suppose that it is associated with the condition.
Symptoms of ICP usually begin around 30 weeks into pregnancy, but they can occur earlier.
When should I seek help for ICP?
As the diagnosis of ICP needs to be made through blood tests (liver function and bile acid levels), any pregnant woman who experiences any of the above symptoms should always seek the guidance of a health professional such as a midwife or doctor. Although ICP typically starts from around 30 weeks of pregnancy, it can occur earlier and not all health professionals know this so you should still ask for the tests.
The condition is known to cause spontaneous premature birth (opens in new tab) and, in very severe cases, stillbirth (opens in new tab), so it always worth seeking advice, even if you're not certain that your symptoms are those of ICP. There are other conditions that can cause itching in pregnancy, such as autoimmune hepatitis or primary biliary cholangitis and this means that other blood tests also need to be performed - this makes an ICP a diagnosis of exclusion and is again why you need to see a heath professional.
What is the treatment for ICP?
According to the NHS, if you are diagnosed with ICP, it's extremely important that you have regular bile acid tests to monitor your condition, as at the moment, this is the only way to assess risk of stillbirth.
Researchers are still trying to find out the best way to treat ICP but currently treatment includes the use of medication such as ursodeoxycholic acid, and most women will will have their baby earlier than 40 weeks. Because of the link with stillbirth, you may be offered induction of labour at around 37-38 weeks of pregnancy if you have ICP. However, much more research is needed to know the best way to treat ICP and to ensure that all unborn ICP babies arrives safely.
There are also creams, such as aqueous cream with menthol, that can be prescribed to provide some relief from the itching.
Jessica Dady is Senior Content Editor at Goodto.com and has over 10 years of experience as a digital journalist, specialising in all things food, recipes, and SEO. From the best food hampers to cookbooks, from the best cake stands to baking sets, Jessica has a wealth of knowledge when it comes to must-have food products. A passionate baker, she spends much of her time creating celebration cakes for friends and family - particularly for her two lucky children.