'What it symbolised meant so much to me' Woman explains her decision to have a 'lotus birth'
'We first bonded while allowing it to finish pulsating'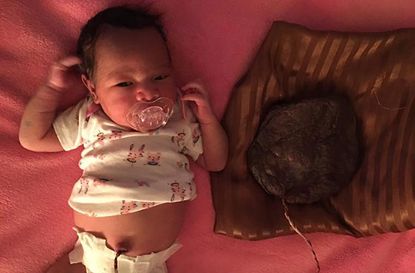 A mother has opened up on Facebook about her decision to have a lotus birth, where the placenta and the baby remain attached after labour (opens in new tab).
Jazmine Toria, who gave birth to daughter Nayaeli in March 2017, shared several pictures and videos on the social media site to demonstrate the benefits she felt she experienced after following the 'beautiful' process.
'In case you don't know, a Lotus Birth is the practice of leaving the umbilical cord attached to baby & the placenta and allowing it to fall off naturally and on it's own time. Serving plenty of benefits to your baby. Such as ensuring a average of 100ml of precious red blood cells will transfer to the baby at such a critical time as birth which contributes to exponential brain development in the first year, as well as the transference of the beautiful stem cells which helps to repair anything in need after her journey of birth,' she explains. 'It also has plenty more benefits for both the mother and baby.'
https://www.facebook.com/jazmine.theempress/posts/418237508547433
Jazmine says that hospitals aren't always encouraging of a lotus birth, but that she spoke to 'plenty of amazing parents who practised a lotus birth as well' to ensure that she was prepared for any challenges.
'My experience with my baby girl and her placenta was absolutely phenomenal,' she reveals. 'After her and the placenta was born we first bonded while allowing it to finish pulsating, after that we rinsed it off with warm water, drained it and placed it on an absorbent pad and covered & cured it with lavender essential oil, dried organic rosemary and organic sea salt. We then wrapped the absorbent pad around it and placed a silk wrap on it to carry it in. My fiancé did this twice a day.'
https://www.facebook.com/photo.php?fbid=418234451881072&set=pb.100010835617078.-2207520000.1491303286.&type=3&theater
The post received a mixed response from her friends and family, but the now mum-of-two says that she felt both she and her daughter benefited spiritually from the alternative birth (opens in new tab), and she would recommend it to any other expectant parents, adding that she wished she'd know about it when pregnant with her son.
'It's said that lotus babies tend to be a lot more content, pleasant, peaceful and happy plus more compared to babies that had their cords cut. I can literally see the difference, my baby is very quiet, observant and peaceful. She barely cries AT ALL, unless I'm taking a little while with her "milkies" lol. She smiles & laughs a lot, holds her head up etc and only a week old. She's a great baby.. I'm very happy I had a lotus birth and very blessed.'
https://www.facebook.com/photo.php?fbid=418234458547738&set=pb.100010835617078.-2207520000.1491303286.&type=3&theater
In a follow-up post a few days later, Jazmine addressed the range of feedback that she had received about her choice, writing: 'Thank you deeply for all the positive feedback and well wishes. We didn't post this to tell others what to do it, we posted b/c we're proud of our decision. We don't claim to know it all nor are we trying to tell others to do it.. this was just our experience & the best choice for us and our baby.'
'Some think it's bad or unhealthy, kudos to you. But we enjoyed our experience and our baby girl(3wks old now) is completely happy, healthy and beautiful.'