Josie Gibson reveals baby gender in live scan and discusses baby names
Josie Gibson revealed the sex of her unborn baby during a live scan on Tuesday's Loose Women.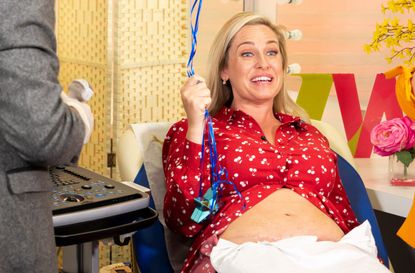 Josie Gibson has revealed the sex of her unborn baby during a live scan on Tuesday's Loose Women.

The pregnant TV star, who is six months pregnant, discovered that she and boyfriend Terry are expecting a little boy in just a few months.
After being convinced that she is having a girl, Josie admitted she feels 'blessed' to be pregnant after suffering a tragic miscarriage at 11 weeks in November last year.
Josie Gibson (opens in new tab) said: 'I was sure it was a girl because I've got a really small bump. I'm so looking forward to it I just feel so blessed.
'I've done all the old wives tales, I've been urinating in baking soda, all the wives tales have all come out that it's a girl, but I do believe it's a boy.'
She then admitted she is torn over her son's baby name, revealing a rather unusual moniker is in the mix.
'I want to call him Diggory or Jack,' she added.
Speaking of her miscarriage, Josie told the Loose Women panel: 'I didn't tell anyone until I was gone five months. The last time we went mental and told everyone.
'The cot arrived and we thought "well we might as well try again" and got pregnant straight away.
'You're really worried about the news you'll get. I never really understood how people grieved after a miscarriage, I was about 11 weeks.
'But because you'd never met it, you didn't know how they grieved.'
Gushing over her boyfriend, who doesn't want to be in the limelight so wasn't at the scan, Josie added: 'I've known him since I was about 14, he's just... you can't ever get bored with him.
'I've always been with men who I've had to look after, and I knew that having kids with them would make my life a struggle.
'But Terry is brilliant - he's been a friend of the family for almost 20 years, so I know he's a good guy.'
The former Big Brother star revealed she is pregnant with her first child at the beginning of May, telling Closer Magazine at the time: 'We are so excited! I feel so relaxed and calm.
'Although I still think I'm in shock. We left our first scan and I just looked at Terry and said, "What have we done?!"
'Life is going to change a lot, but we are so happy.'
A Freelance Writer and Content Editor, Jenni has been working on the women's lifestyle team at TI-Media on and off for over three years. She writes about your favourite celebrities and TV shows so you never miss an update. Jenni also writes beauty news and features - so for all of your skincare and make-up needs, drop her a line.