We earn a commission for products purchased through some links in this article.
The Duke and Duchess of Cambridge have revealed their plans for a family Christmas and what they will be putting in Prince George's stocking.
In the latest part of their UK tour promoting mental health awareness, William and Kate took a trip to North Wales where they visited the town of Caernarfon – just 20 miles from the Anglesey farm where they spent their first four years as a married couple.
During the meet and greet, Prince William was handed knitted woollen sheep, one in blue and another in pink, perhaps as stocking fillers for the little ones.
The father-of-two later watched some children playing with a bubble machine and remarked that; 'George would love the bubbles… we'll have to get him one for Christmas.'
Presumably buying Christmas presents is going to be a little tricky for George, as according to The Sun he is already completely smitten with a toy tractor he uses to ride around Amner Hall.
Whilst William might be thinking about presents his wife, like many parents, hasn't got round to making plans for Christmas.
'I haven't started yet, but George will be starting to talk about Christmas soon.'
The Duchess of Cambridge has previously spoken about her eldest child being the loudest in the house, which her father-in-law Prince Charles confirmed in an interview this week.
Grandfather Charles said that George is a 'character' and, seemingly taking after his parents, he 'intrinsically loves spending time outside.'
During the trip, the Royals met with youth from local scouting groups. Kate told the crowd that she had 'really enjoyed' her time helping out with the Scouts in Anglesey and has plans enroll Princess Charlotte in Rainbows – the youngest group for girls aged five to seven.
Jill Wilkinson, Caernarfon County Commissioner for Girl Guides, said; 'Catherine said she needs to put Charlotte's name down for Rainbows and she will get George for scouting.'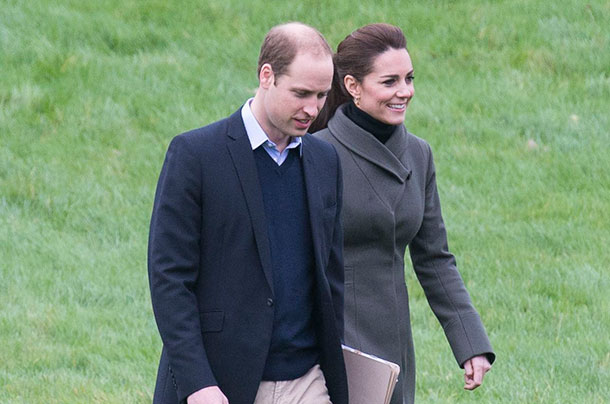 Although 'noisy' George will have to teach mum the correct scouting code, as Kate had a little faux pas when she greeted 12-year-old Guto Jones with her right hand instead of left.