'The hot flushes!' Katie Price worries she's pre-menopausal while discussing relationship with Kieran
She told Kieran she'd already decided on her next husband...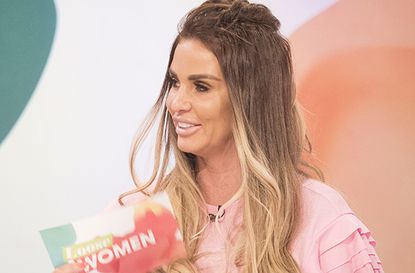 (Image credit: Ken McKay/ITV/REX/Shutterstock)
Katie Price has hinted that she could be approaching the menopause, after ITV co-host Andrea McLean read out a list of tell-tale signs that sounded suspiciously familiar to her.
The hilarious exchange came during a discussion where Katie admitted she couldn't keep her eyes off other men at the moment, telling the other Loose Women 'I don't know what's the matter with me, I really don't.'
'I am in love with Kieran and he's perfect, but I'm just looking at everything at the minute.'
Expressing that she was lacking some confidence, she added, 'I don't care that I'm turning 40 next year, I have no problem with that. But it's that: "Oh, would I be able to pull again?" Not that I want to! Am I going through it.'
It was then that Andrea McClean read out a list of menopause symptoms (opens in new tab) from an article in a daily newspaper titled, 'Is menopause sending you into the arms of a toyboy?'
She went on to list the signs, such has hot flushes, hot sweats disrupting sleep, and the clincher - 'Are you worried you'll never sleep with anyone other than your husband again?'
The comments seemed so eerily familiar to Katie that she had to ask, 'Are you making this up? Is that a true thing? That is my excuse, sorry Kieran, bring it home.'
The panel even joked about Katie having an affair to satisfy her 'craving', discussing some of the potential men she'd set her sights on.
'Have you thought about having an affair with another man?' asked Andrea, to which Katie replied, 'I wouldn't cheat, but I've thought "Imagine if...".
'I don't want to leave Kieran, as I love him, but I'm looking at everything - I don't know if it's because I want attention. I don't know what's wrong with me,' continued the panellist and star of new ITV reality show, My Crazy Life (opens in new tab).
'Chris from Love Island, he's going to be my next husband and Kieran's laughing - I'm like: "I don't know why you're laughing, Kieran! He's going to be good with the sheep, I've got his slippers under the table...".'