'I am finally a mum' Lyndsy Fonseca and Noah Bean announce they've welcomed their first child together
And what a cute name!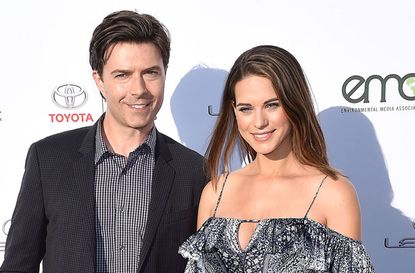 Lyndsy Fonseca and Noah Bean have announced they've welcomed their first child together.
The How I Met Your Mother star shared the happy news with fans on social media, revealing that she welcomed her first child on February 2.
Taking to Instagram, the star posted a series of adorable snaps of her newborn baby girl, and wrote in the caption: 'Our hearts are bursting. ❤️ #iamfinallyamom'.
https://www.instagram.com/p/Be6wqvEnLTE
The first snap also reveals the baby name (opens in new tab) they picked for their little girl, in words laid over the photograph - Greta Lilia Bean.
Fans of the new mum were quick to send congratulatory messages on the comments section. One said: 'Congrats!!! She is so beautiful!', while another wrote: 'Congratulations to you guys! Adorable baby😍❤️😊'.
The couple confirmed they were expecting their first child back in September. They told PEOPLE magazine at the time: 'We are so thrilled and excited. This is, so far, the best project we've ever worked on together!'
The news parents also posted a cute baby announcement on Instagram, with a snap of the two reading parenting books in bed.
https://www.instagram.com/p/BZZNuEtHD8Y
Lyndsy captioned the funny image: 'We are so proud to announce the new addition to our family! #babybump 🤰❤️👶🏼'.
The new mum, who's best known for playing Ted's daughter in the hit comedy show How I Met Your Mother, married Noah in 2016 at the picturesque Saltwater Farm Vineyard in Connecticut.
For their big day, the couple treated family and friends to a vegetarian, locally grown dinner featuring a vegetable, chickpea and couscous dish, and an avocado station.
The pair met while on TV show Nikita together, which aired from September 2010 to December 2013. The new mum has also featured on the blockbuster Kick-Ass and its sequel.
Congratulations to the lovely couple on the new addition to their family!