We earn a commission for products purchased through some links in this article.
Meghan Markle, who will officially join the royal family this weekend, has reportedly broken royal protocol again.
And after several embraces with members of the public, it has been revealed that the bride-to-be doesn't stick to royal rules in the comfort of her own home either as she reportedly hugs the staff at Kensington Palace too.
According to Hello's royal correspondent Emily Nash, Meghan's friend Bonnie Hammer claimed that when Meghan was told it's not protocol to embrace royal staff, she replied: 'I'm American, I hug!'
Meghan has certainly proved she loves to hug after she went in for an emotional cuddle with a schoolgirl during an official visit to Birmingham in March. Sophia Richards, 10, revealed her aspirations to become an actress to Prince Harry who insisted she meet his fiancée Meghan, who gave the young girl a friendly and reassuring hug.
And in Edinburgh in February, Meghan also broke protocol when she shared an 'emotional' embrace with charity worker Alice Thompson after a conversation about women's rights.
Meanwhile, Meghan is also breaking tradition when she weds Harry on Saturday May 19 at St George's Chapel, Windsor Castle, Kensington Palace confirmed in a statement last week.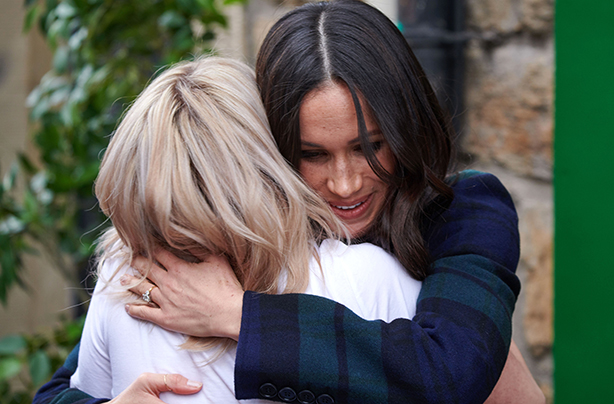 The former actress will be given away by her father Thomas Markle, but while it's typical for the father of the bride to accompany his daughter in the car as they make their way to the wedding venue, Meghan is bestowing that honour to her mum, Doria Ragland.
Their wedding will also be the first time Meghan's dad will meet his future son-in-law, Harry. Prince Harry is said to have met Doria on a number of occasions, and the pair were pictured getting along famously at the Invictus Games in Toronto last year.
As for their big day, Meghan's friend Janina Gavankar has spoken to NBC for a Royal Wedding special, set to air on Wednesday, saying of Meghan's impeding wedding to Harry: 'She's sacrificing privacy; she's gaining the love of her life. Pretty good reason.'