We earn a commission for products purchased through some links in this article.
Meghan Markle was secretly baptised ahead of her May wedding to Prince Harry, and now details of the 'moving' and 'special' service have finally been shared – by none other than The Archbishop of Canterbury.
36-year-old former actress Meghan Markle, loved for her role in the hit US show Suits, was rumoured to have been baptised a couple of weeks ago at St James's Palace, London.
This is where Prince George was christened in 2013 and where Queen Victoria and Prince Albert's wedding took place back in 1840.
The Archbishop of Canterbury, Justin Welby, has now revealed a few sweet details about the intimate family service and said that it was 'a great privilege' to baptise Meghan.
The Archbishop of Canterbury will conduct Harry and Meghan's wedding in May
Speaking to ITV presenter Julie Etchingham, Justin said: 'It was very special, it was beautiful and sincere.'
A baptism is a symbolic ceremony in which water is sprinkled on to the person's forehead to represent purification or regeneration. A confirmation is a ritual that reaffirms the promises made at a baptism and the two services can happen at the same time. You cannot be confirmed without being baptised first.
Meghan did not have to be baptised in order to marry Prince Harry and join the royal family, but the bride-to-be chose to do it so that she could be confirmed into the Church of England as a sign of respect to the Queen, who is had of the Church of England.
The Duchess of Cambridge was also confirmed before her wedding to Prince William in 2011.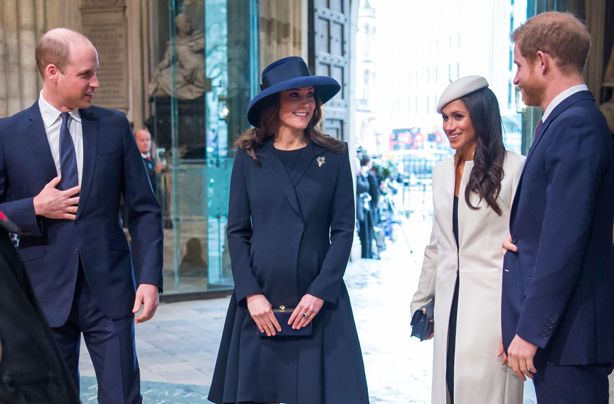 Meghan Markle attending a service at Westminster Abbey recently with the Queen, pictured here with Prince Harry and the Duke and Duchess of Cambridge.
Kensington Palace announced plans for Meghan's baptism in November, shortly after she and Harry announced their engagement.
The Archbishop of Canterbury, Justin Welby, will conduct Harry and Meghan's wedding at St George's Chapel in Windsor Castle on 19 May. Speaking about the preparations for the day he joked that he might be a little nervous, saying that he will be focused on not 'dropping the rings' or saying the vows 'in the wrong order' – two little slip-ups that happened at other weddings he has conducted recently.
The Archbishop is however adamant that despite having the world watching on the day of the ceremony, he is preparing for it with Meghan and Harry in the same way as any other wedding.
He said: 'You just focus on the couple. It's their day. At the heart of it is two people who have fallen in love with each other, who have committed their lives to each other with the most beautiful words and profound thoughts.'