Men can now pay to experience the pain of childbirth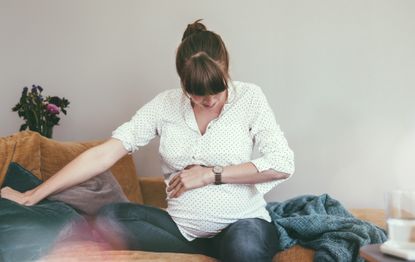 Dads-to-be can finally feel what it's like to give birth thanks to Ultrasound Baby Face's new labour simulator.
At last, men can experience pain in childbirth, thanks to a clever new labour simulator that's been developed.
The Bristol-based company behind it, who provide scans and baby first aid via their website, now offer the enticingly-titled Labour Pain Experience to couples and individuals who want to know how painful giving birth really is.
A description on Ultrasound Baby Face's website reads: 'From wearing a bump and trying to complete the day-to-day activities of pregnancy, to experiencing the pain of childbirth.
We will give you some insight into what Mum will be experiencing throughout their pregnancy.'
For just £25, the willing participant is hooked up to a transcutaneous electrical nerve stimulation, or TENS, and receives short shocks that induce similar feelings to those experienced through contractions.
At only 30 minutes long, the experience offers only a glimpse of the birthing process, as the participant isn't required to push or have a C-section – lucky them!
In a recent video uploaded to the company's Facebook page, one man gave the machine a try, with hilarious results.
https://www.facebook.com/madeinbristoltelevision/videos/vb.771836796169788/1946497765370346/?type=2&theater
While he lay on a table with his shirt pulled up, the volunteer was warned he'd experience 'very sharp pains' as pads were stuck to his stomach.
After recoiling at the ensuing electrical shocks, the man commented: 'It feels like there's an alien inside me.'
He then screamed loudly at a particular painful contraction, saying: 'That was like a knife.'
'It's really hard work,' he added.
A company spokesman said: 'It's a chance for the man to show to his partner that he is there for them and to help them experience a little bit of what their partner is going through.
'I've given birth and while our machine is not as painful as a contraction it will hopefully give the man an insight into what the woman is going through.'
The service is available at The Galleries, Bristol, and can be booked on the Ultrasound Baby Face website (opens in new tab).
Do you think dads-to-be should sign up to experience the pain of childbirth? Head over to our Facebook page and let us know your thoughts!
Trusted, informative, and empathetic – GoodTo is the ultimate online destination for mums. Established in 2007, our 15-year-strong archive of content includes more than 18,000 articles, 1,500 how-to videos, and 7,000 recipes.