Molly Mae shares adorable personalized Mother's Day gift - here's how to bag yours
The new mum got a cute personalized book starring baby Bambi for Mother's Day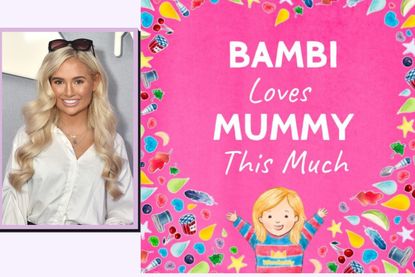 (Image credit: Future)
Molly-Mae Hague shared an adorable snap on Instagram of a sweet personalized book that she received as a Mother's Day gift - and it's one of our faves.
Posting on her stories, Molly Mae shared a snap of an adorable personalized children's book called 'Bambi Loves Mummy This Much' and wrote: 'Just had this in the post from my Mum'. It was Mothering Sunday in the UK last weekend and the former star of Love Island took to Instagram to share some of the gifts she enjoyed on her first Mother's Day since welcoming daughter Bambi into the world in January 2023.
The new mum and influencer also shared an image of a page inside the book which reads 'But Mummy, who loves you heaps and heaps more?' with the name Bambi appearing in the clouds. In a second Stories post, Molly Mae added the caption 'Personalised story book' along with the cloud and crying face emojis.
In another photo shared to her Stories, Molly-Mae posed alongside her mother and grandmother whilst holding baby Bambi in her arms. She added the caption:
'Four Generations. Happy Mother's Day to my beautiful mum and Bambi's Great Nana.'
We spotted that the cute book is from Wonderbly, a company that makes a wide range of personalized books for children - the kind of storybooks that kids will want to read again and again, and parents will want to keep and treasure forever.
Molly-Mae's personalized book is called 'I Love Mummy This Much' and is designed to be gifted by children up to 4 years old. With easy rhyming words, lots of repetition, and large, engaging images, it's the perfect story for little ones to read aloud together.
The story centers around an everyday adventure from breakfast to bedtime, as the featured child tells their mummy just how much they love her. More than splashy puddles? Oh yes. More than the ocean? Of course. More than all the moons and stars in the universe? Easily!
Our Family Editor, Steph Lowe said: 'We absolutely love the Wonderbly personalized books. They make such thoughtful personalized presents and are ideal gifts for new mums like Molly Mae. They can be cherished forever and the attention to detail is outstanding so it's no wonder Molly Mae's personalized book brought tears to her eyes.'
As a parenting specialist for more than 15 years, Heidi has written for most national newspapers and for a wide range of consumer magazines, including Mother & Baby where she was the Shopping Editor for six years, looking after regular consumer features including buying guides and gift roundups.