Molly-Mae Hague shares baby girl with the world - just as fans think they've sussed the name
Molly-Mae Hague and Tommy Fury welcome first child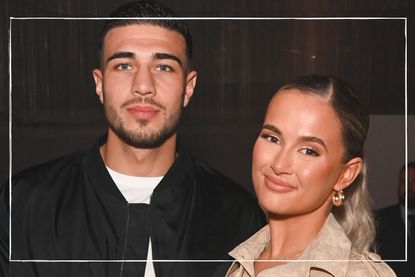 (Image credit: Getty images / Future)
Molly-Mae Hague and Tommy Fury welcomed their first child, over a week ago, and the baby name is said to have been 'leaked' on social media.
Choosing baby names can be hard enough as it is when you're an average Joe let alone if you're a celebrity. For those with celebrity status they like to go with unique baby names (opens in new tab) or cool baby names (opens in new tab) rather than the more traditional baby name (opens in new tab) choices. And, Molly Mae is no different, or so fans think.
Molly-Mae and Tommy (opens in new tab) , who first met in the Love Island villa in 2019, took to Instagram to reveal their daughter was born. Sharing a joint post, simply sharing a black and white image of the new trio with the caption '23/01/23🤍', prompting fans to ask where did Molly-Mae give birth (opens in new tab)?
Molly later added in her Instagram Stories and image of her holding her daughter with a caption; "One week old today. I can't believe we get to keep you forever. Becoming your mum has been the best thing to ever happen to me... It doesn't seem possible but my love for you grows with each passing moment. There is no feeling like holding you in my arms little one, my heart literally explodes. Thank you for entering this world sagely for us and blessing us with the gift of being your parents. We promise to love and care for you unconditionally forever."
The influencer has previously teased that she has chosen a unique name for their daughter, explaining to her fans last year: "It's a really, really unusual and a different name." A lot of Molly-Mae's followers on her TikTok account have been speculating, and think that she has chosen a Disney baby name (opens in new tab) , as reported by The Mirror.
One fan wrote: ... Somebody I know who is close to Molly's manager's family or something knows the name. It's Bambi (opens in new tab)." While a second added: "It's Bambi apparently." While another wrote; "I'm pretty certain she's had her baby already so I'm gonna say my guess is Bambi - i found an ig account on private called @bambifury".
Following from the social media silence, fans are desperate for any update on the couples baby as many theorise about their chosen name. So watch this space....
It was September 2022 that the Love Island star and entrepreneur revealed she was not only expecting but past the five-month mark already. The 23-year-old surprised fans with a sweet Instagram post to reveal the pair were expecting their first child together. Tommy and Molly-Mae moved in together in a house in Manchester. And in June 2021, Molly opened up about their relationship, saying; "I do believe we're soulmates. My parents love him. We're cringey and mushy, and I like it like that."
Related Features:
Video of the Week:
Stephanie Lowe is Family Editor at GoodTo covering all things parenting, pregnancy and more. She has over 13 years' experience as a digital journalist with a wealth of knowledge and experience when it comes to all things family and lifestyle. Stephanie lives in Kent with her husband and son, Ted. With his love of choo-choos, Hey Duggee and finger painting he keeps her on her toes.